Beginner
Mark as New

Bookmark

Subscribe

Mute

Email to a Friend
SLA Monitoring in Policy Based Routing on Cisco ASA 5516-x
Hello Community members!
I would really use some help regarding the situation I'm in now. I want to ask apologies in advance, this is my first post.
I have two ISP connected to my Cisco ASA 5516-x to Gi0/3 and Gi0/1(details in the photo below or in the attachment). I have a task to route DMZ subnet to ISP2 (Beeline_Router) and other traffic via ISP1 (Tojnet Gateway), but also this should be a failover scenario, for instance if ISP2 link is down I need to reroute DMZ to ISP1. For this I have created access list which applied to PBR and applied this PBR to my DMZ interface. I have two static routes - ISP1 as primary, ISP2 with higher metric. I've created two SLA monitor which are pinging 8.8.8.8 host (as internet simulation) from each Outside interface. Issue here that since route to ISP1 is in priority my second SLA monitor which is looking to ISP2 side is not routed correctly. How can I make both tracks ping the desired ip? Is it possible or am I doing something wrong? Below are the configs and some details.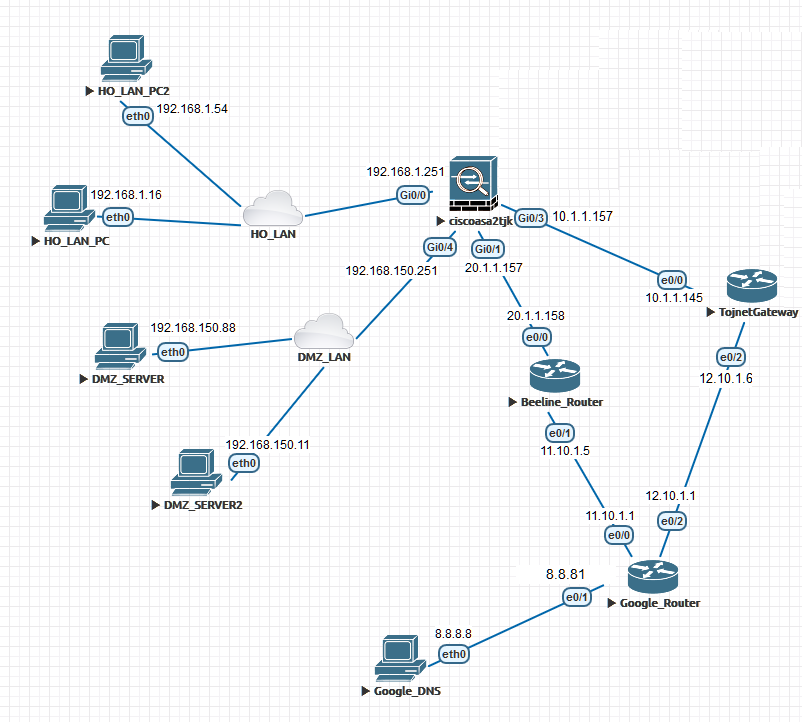 -------------------------------------SHOW RUN------------------------------------------------------------
!
interface GigabitEthernet0/0
nameif LAN0-g0/0
security-level 100
ip address 192.168.1.251 255.255.255.0
!
interface GigabitEthernet0/1
nameif ISP2
security-level 0
ip address 20.1.1.157 255.255.255.248
!
interface GigabitEthernet0/3
nameif ISP1
security-level 0
ip address 10.1.1.157 255.255.255.224
!
interface GigabitEthernet0/4
nameif DMZ4-g0/4
security-level 50
ip address 192.168.150.251 255.255.255.0
policy-route route-map PBR_DMZ_MAP
!
object network DMZ_Server2
host 192.168.150.11

object network DMZ_Server
host 192.168.150.88

object network Google_Dns
host 8.8.8.8

object-group network DMZ_Servers
network-object object DMZ_Server
network-object object DMZ_Server2

access-list PBR_DMZ_Servers extended permit ip object-group DMZ_Servers object Google_Dns
route-map PBR_DMZ_MAP permit 10match ip address PBR_DMZ_Servers
set ip next-hop verify-availability 20.1.1.158 1 track 1
set ip next-hop verify-availability 10.1.1.145 2 track 2
!
route ISP1 0.0.0.0 0.0.0.0 10.1.1.145 1
route ISP2 0.0.0.0 0.0.0.0 20.1.1.158 20
!
sla monitor 1
type echo protocol ipIcmpEcho 8.8.8.8 interface ISP2
timeout 3000
frequency 3
sla monitor schedule 1 life forever start-time now
sla monitor 2
type echo protocol ipIcmpEcho 8.8.8.8 interface ISP1
timeout 3000
frequency 3
sla monitor schedule 2 life forever start-time now
!
track 1 rtr 1 reachability
!
track 2 rtr 2 reachability
--------------------------------------------------------------------------------------------
------------------------------------SHOW TRACK-------------------------------------------
ciscoasa(config)# show track
Track 1
Response Time Reporter 1 reachability
Reachability is Down
1 change, last change 00:35:37
Latest operation return code: Timeout
Tracked by:
ROUTE-MAP 0
Track 2
Response Time Reporter 2 reachability
Reachability is Up
2 changes, last change 00:08:31
Latest operation return code: OK
Latest RTT (millisecs) 1
Tracked by:
ROUTE-MAP 0
---------------------------------SHOW ROUTE MAP-----------------------------------------------
ciscoasa(config)# show route-map
route-map PBR_DMZ_MAP, permit, sequence 10
Match clauses:
ip address (access-lists): PBR_DMZ_Servers
Set clauses:
ip next-hop verify-availability 20.1.1.158 1 track 1 [down]
ip next-hop verify-availability 10.1.1.145 2 track 2 [up]