Highlighted
Beginner
Mark as New

Bookmark

Subscribe

Mute

Email to a Friend
503 Service Unavailable through CSC-SSM
Im stumped! we have one website that we use ALL the time. Sometimes it works sometimes it doesnt.
www.cutr.usf.edu its a good URL it works on any other device not behind the ASA.
When we navigate to it, it displays 503 service unavailable Unable to connect to 131.247.19.33.
i can see it building and tearing down the connection. TCP FINs looks normal but this is what we get. It may work fine for a while then not. last time i started putting www in front of the url and now nothing works. Any ideas?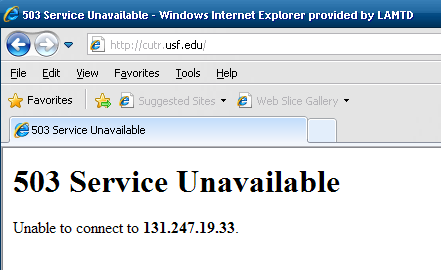 | | | | | | | | | |
| --- | --- | --- | --- | --- | --- | --- | --- | --- |
| 6 | Sep 10 2010 | 14:34:27 | 302014 | 131.247.19.33 | 80 | 192.168.1.36 | 5129 | Teardown TCP connection 11045881 for WAN:131.247.19.33/80 to LAN:192.168.1.36/5129 duration 0:00:00 bytes 277 TCP FINs |
| | | | | | | | | |
| --- | --- | --- | --- | --- | --- | --- | --- | --- |
| 6 | Sep 10 2010 | 14:34:27 | 302013 | 131.247.19.33 | 80 | 192.168.1.36 | 5129 | Built outbound TCP connection 11045881 for WAN:131.247.19.33/80 (131.247.19.33/80) to LAN:192.168.1.36/5129 (74.203.134.30/4520) |
| | | | | | | | | |
| --- | --- | --- | --- | --- | --- | --- | --- | --- |
| 6 | Sep 10 2010 | 14:34:27 | 305011 | 192.168.1.36 | 5129 | 74.203.134.30 | 4520 | Built dynamic TCP translation from LAN:192.168.1.36/5129 to WAN:74.203.134.30/4520 |
| | | | | | | | | |
| --- | --- | --- | --- | --- | --- | --- | --- | --- |
| 6 | Sep 10 2010 | 14:34:24 | 302014 | 131.247.19.33 | 80 | 192.168.1.36 | 5127 | Teardown TCP connection 11045875 for WAN:131.247.19.33/80 to LAN:192.168.1.36/5127 duration 0:00:00 bytes 277 TCP FINs |
| | | | | | | | | |
| --- | --- | --- | --- | --- | --- | --- | --- | --- |
| 6 | Sep 10 2010 | 14:34:24 | 302013 | 131.247.19.33 | 80 | 192.168.1.36 | 5127 | Built outbound TCP connection 11045875 for WAN:131.247.19.33/80 (131.247.19.33/80) to LAN:192.168.1.36/5127 (74.203.134.30/51059) |
| | | | | | | | | |
| --- | --- | --- | --- | --- | --- | --- | --- | --- |
| 6 | Sep 10 2010 | 14:34:24 | 305011 | 192.168.1.36 | 5127 | 74.203.134.30 | 51059 | Built dynamic TCP translation from LAN:192.168.1.36/5127 to WAN:74.203.134.30/51059 |
Trend Micro InterScan for Cisco CSC SSM 6.3.1172.3
Cisco Adaptive Security Appliance Software Version 8.2(1)
Device Manager Version 6.2(1)
Compiled on Tue 05-May-09 22:45 by builders
System image file is "disk0:/asa821-k8.bin"
Config file at boot was "startup-config"
ciscoasa up 53 days 2 hours
Hardware: ASA5520, 2048 MB RAM, CPU Pentium 4 Celeron 2000 MHz
Internal ATA Compact Flash, 256MB
BIOS Flash Firmware Hub @ 0xffe00000, 1024KB
Encryption hardware device : Cisco ASA-55x0 on-board accelerator (revision 0x0)
Boot microcode : CN1000-MC-BOOT-2.00
SSL/IKE microcode: CNLite-MC-SSLm-PLUS-2.03
IPSec microcode : CNlite-MC-IPSECm-MAIN-2.04