OID "sub"-Power Supply Catalyst 4500 two input
Options
Mark as New

Bookmark

Subscribe

Mute
‎05-25-2023 06:19 AM
I'm monitoring the Cisco Power Supply (among a ton of other things), and it's working very well. However, I have one question regarding the Cisco Catalyst 4500. This particular model has two physical power supplies, each with two inputs. When I use the "Show power" command, it indicates that one of the "sub power supplies" is off.


The problem is my snmpwalk, I can only see my PS1 and PS2:


I've tried using other OID's (Object Identifiers) but haven't found any relevant information.
So my question is : Is it possible to monitor the sub power supplies for this type of equipment? Or do I need to wait for both of them to go down before my monitoring system detects an issue?
Thanks !
(+++++++)

I noticed something, one value change when i plug or unplug the sub input :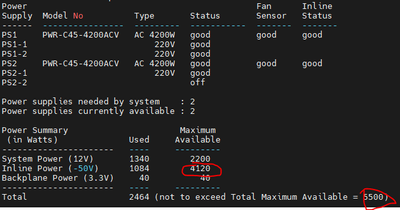 So i thought maybe i can monitor theses values instead of the status of the power supply.With this snmpwalk at this special OID i get :
I remember that to calculate power consumption in watts it's current * voltage. As this value is in Centi Amps it's 18333*0.01*12 = 2199.96. So its giving me the correct value for System Power, but not for Inline Power..
I just think i can't monitor that at this point

Thanks for help !