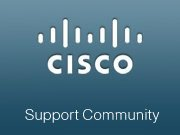 Community Manager
Mark as New

Bookmark

Subscribe

Mute

Email to a Friend
Ask the Expert: IPv6 Routing Protocols
With Cisco Designated VIP Peter Palúch
Welcome to the Cisco Support Community Ask the Expert conversation. This is an opportunity to learn and ask questions about about how to plan, design, implement, and troubleshoot IPv6 routing protocols in your network infrastructure, including in-depth information about their operation with Cisco Designated VIP Peter Palúch.
With the increasing rate of IPv6 deployment, issues with dual operation of IPv4 and IPv6 are also compounded with the need of running appropriate routing protocols. This event provides an opportunity to ask about Open Shortest Path First version 3 (OSPFv3), Intermediate System-to-Intermediate System (IS-IS) Protocol, Enhanced Interior Gateway Routing Protocol (EIGRP), Border Gateway Protocol (BGP), and Routing Information Protocol next generation (RIPng) and learn details about their operation, implementation, and optimization.
Cisco designated VIP Peter Palúch is an assistant professor and a Cisco Networking Academy instructor at the University of Zilina, Slovakia. His fields of interest include routing, switching, and Multiprotocol Label Switching (MPLS) technologies. He is a seasoned teacher who has cooperated in various educational activities in Slovakia and abroad, focusing particularly on networking and Linux-based network server systems. Peter holds a doctoral degree in the area of VoIP quality degradation factors; he also holds CCIP certification (retired by Cisco) and CCIE certification no. 23527 in routing and switching.
Remember to use the rating system to let Peter know if you've received an adequate response.
Because of the volume expected during this event, Peter might not be able to answer every question. Remember that you can continue the conversation in the Network Infrastructure community, subcommunity, WAN, Switching and Routing, shortly after the event. This event lasts through November 15, 2013. Visit this forum often to view responses to your questions and those of other Cisco Support Community members.
This event ends Friday, November 15 - Please be sure to post your questions now!