Beginner
Mark as New

Bookmark

Subscribe

Mute

Email to a Friend
Non-ACI Spine Switch Cross Connect and ECMP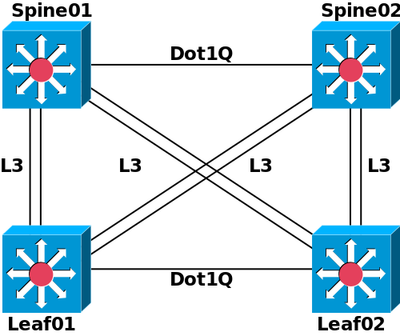 I have a pair of cisco nexus 9500 spine switches but not in ACI mode - just straight EIGRP L3 ECMP links to leaf switches. The spines are cross connected with a dot1Q trunk and so each sees the other as an EIGRP neighbor/peer over a common trunked vlan.
The leaf switches are also trunked east-west so we can do HSRP facing the end devices, so a dot1Q trunk makes sense there and the leaf switches are also using a common vlan to see each other as EIGRP neighbors/peers. Although above each leaf is show
So is the trunk and common vlans really needed for the spine switches, or is it a best practice of some kind, or is there any advantage to that ease-west peering for EIGRP?
Beginner
Mark as New

Bookmark

Subscribe

Mute

Email to a Friend
Hi John,
In a standard leaf-spine architecture, the spines are pure L3 and there is no need to have any direct spine-to-spine connectivity. Obviously, in specific architectures there may be deviations that change this.
ECMP works across the available paths. In your case, assuming all links are equal, it will be two hops for any leaf to leaf traffic. Using a spine-to-spine link would mean three hops and the EIGRP computed metric should reject the path unless you have UCMP turned on with a relevant variance set.
Hope this helps
Dave