Spanning-Tree: Question on TCN and Forward Delay
Options
Mark as New

Bookmark

Subscribe

Mute

Email to a Friend
‎02-22-2012 07:44 PM - edited ‎03-07-2019 05:07 AM
Hi to All,
I am having great difficulty with understanding the concept of TCN (Topology Change Notification) and Forward Delay
1-TCN
Does the TCN (Topology Change Notification) is sent as soon as a port moves from forwarding to block state or from block to forwarding state? In other words, immediately after the 20 second max age that corresponds to a root information time out?
Does the forward delay value (15) second correspond to the new aging time value of a bridge after it received a TCN?
How long does the bridge will used a 15 sec aging time?
2-Forward Delay
Why are we saying that twice the forward delay is equal to the listening and learning period:
2 x forward delay = end-to-end_BPDU_propagation_delay + Message_age_overestimate + Maximum_frame_lifetime+ maximum_transmission_halt_delay
It make sense to me that a bridge waits for the max age before making sure that it has found the root but I do not understand why it has to wait for the last bridge to stop forwarding frames that are received on the previous topology? Waiting 20 second for the max age should be enough since aging time is 15. Previous topology should be reset as soon as the aging time time out?
Is there any relation between the fact that the forward delay is 15 second and the aging time that is set to 15 second after reception of the TCN.
I have some difficulties to understand the concept of the last bridge that hears about the change in the topology. Which bridge would be the last to hear about the topology change in the following topology?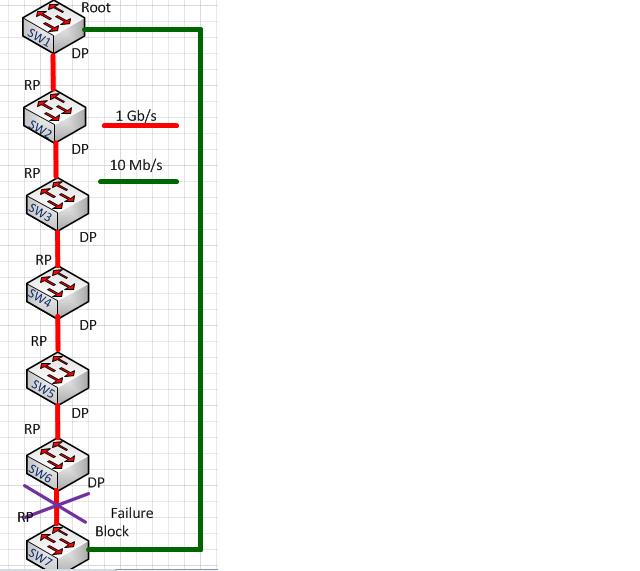 Thanks for your help
Stephane
Options
Mark as New

Bookmark

Subscribe

Mute

Email to a Friend
‎02-22-2012 10:46 PM