Beginner
Mark as New

Bookmark

Subscribe

Mute

Email to a Friend
Firepower AnyConnect LDAP/AD Authentication Issue
Hello,
We are having issues setting up firepower anyconnect authentication with LDAP/AD. We have a realm setup with our AD servers. We can obtain users/groups from AD with it, and can authenticate into the FMC with AD credentials. However, when it comes to anyconnect VPN authentication, we have issues using this realm. When we try to connect with the anyconnect client, or try to download it, there is an almost instant "login error" message. Also, testing on the command line yields a "no such server" message.
> test aaa-server authentication <server group> host <name or IP> username <username> password <password>
ERROR: No such server <name or IP>
We can ping the authentication server by IP or name from the command line, and the aaa server statistics go up for requests and timeouts, when trying to connect with the anyconnect client.
>show aaa-server <server group>
Number of authentication requests 10
Number of timeouts 10
It appears that the FTD is unable to communicate with the authentication server for VPN authentication, but we cannot figure out why. Any suggestions or additional debugging/logging to check would be appreciated.
Thank you
2 ACCEPTED SOLUTIONS
Advocate
Mark as New

Bookmark

Subscribe

Mute

Email to a Friend
Yes, open the .cer file for the CA cert in a text editor and you should see a PEM encoded cert. Something like this:
-----BEGIN CERTIFICATE-----
MIICLDCCAdKgAwIBAgIBADAKBggqhkjOPQQDAjB9MQswCQYDVQQGEwJCRTEPMA0G
A1UEChMGR251VExTMSUwIwYDVQQLExxHbnVUTFMgY2VydGlmaWNhdGUgYXV0aG9y
aXR5MQ8wDQYDVQQIEwZMZXV2ZW4xJTAjBgNVBAMTHEdudVRMUyBjZXJ0aWZpY2F0
ZSBhdXRob3JpdHkwHhcNMTEwNTIzMjAzODIxWhcNMTIxMjIyMDc0MTUxWjB9MQsw
CQYDVQQGEwJCRTEPMA0GA1UEChMGR251VExTMSUwIwYDVQQLExxHbnVUTFMgY2Vy
dGlmaWNhdGUgYXV0aG9yaXR5MQ8wDQYDVQQIEwZMZXV2ZW4xJTAjBgNVBAMTHEdu
dVRMUyBjZXJ0aWZpY2F0ZSBhdXRob3JpdHkwWTATBgcqhkjOPQIBBggqhkjOPQMB
BwNCAARS2I0jiuNn14Y2sSALCX3IybqiIJUvxUpj+oNfzngvj/Niyv2394BWnW4X
uQ4RTEiywK87WRcWMGgJB5kX/t2no0MwQTAPBgNVHRMBAf8EBTADAQH/MA8GA1Ud
DwEB/wQFAwMHBgAwHQYDVR0OBBYEFPC0gf6YEr+1KLlkQAPLzB9mTigDMAoGCCqG
SM49BAMCA0gAMEUCIDGuwD1KPyG+hRf88MeyMQcqOFZD0TbVleF+UsAGQ4enAiEA
l4wOuDwKQa+upc8GftXE2C//4mKANBC6It01gUaTIpo=
-----END CERTIFICATE-----
Copy that manual enrollment into the FMC:
Next, on the FMC, go to Devices>Certificates and click 'Add'. Choose your FTD and the newly created manual cert enrollment object.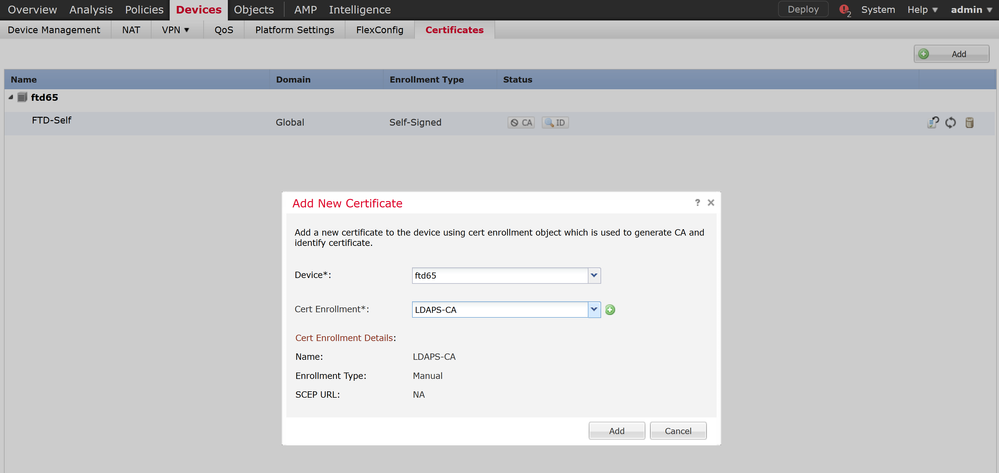 Save and Deploy this to your FTD. This essentially creates a new trustpoint on the FTD backend that allows it to trust the cert coming from the LDAPS server.
This behavior changed in 6.5. In previous versions, the FTD did not need to trust the LDAPS certificate. I tried to talk TAC into opening a bug for this, but they did not deem it necessary, even though there is absolutely no documentation of the behavior change or workaround needed. The ASA behavior change is noted here:
https://www.cisco.com/c/en/us/td/docs/security/asa/asa913/release/notes/asarn913.html#id_9545
Beginning with 9.13(1), the ASA establishes an LDAP/SSL connection only if one of the following certification criteria is satisfied:

The LDAP server certificate is trusted (exists in a trustpoint or the ASA trustpool) and is valid.

A CA certificate from servers issuing chain is trusted (exists in a trustpoint or the ASA trustpool) and all subordinate CA certificates in the chain are complete and valid.
Beginner
Mark as New

Bookmark

Subscribe

Mute

Email to a Friend
Rahul,
Thank you again for your help.
I am going to mark this as solved.
Paul