Options
Mark as New

Mark as Read

Bookmark

Subscribe
‎03-26-2012 08:01 AM - edited ‎11-18-2020 02:58 AM
Introduction
Access points (APs) must discover a controller before they can become an active part of the network. The lightweight APs support the controller discovery processes.
These are the methods by which the AP discovers one or more controllers:
The AP issues a DHCP DISCOVER message in order to obtain an address.
Layer 2
attempts Lightweight Access Point Protocol (LWAPP) wireless LAN (WLAN) controller discovery and Ethernet broadcast. This method is deprecated and supported only on older Cisco AP1000 series. Current Cisco Aironet APs and wireless LAN controllers (WLCs) do not support Layer 2.
Layer 3 attempts LWAPP WLAN controller discovery
LWAPP discovery broadcast on local subnet: This can be assisted across Layer 3-routed boundaries with Cisco IOS commands:
ip helper-address
ip forward-protocol udp 12223 (LWAPP) or 5246 (Control and Provisioning of Wireless Access Points [CAPWAP] as of version 5.2)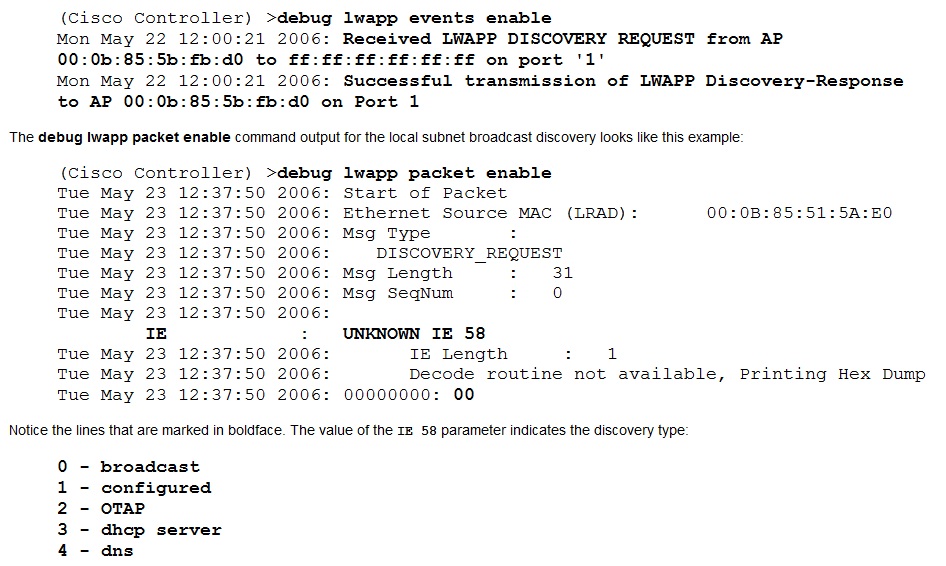 Over-the-air provisioning (OTAP)
If this feature is enabled on the controller (Controller >General), all associated AP's transmit wireless CAPWAP or LWAPP neighbor messages, and
the new APs receive the controller IP address from these messages. This feature is disabled by default due to possible security issues and should be enabled only during deployment. Locally stored controller IP address: This includes IP addresses of the controller that were learned from a previously joined mobility group.
DHCP server discovery with option 43: This feature uses DHCP to provide controller IP addresses to the AP. Cisco switches and routers support a DHCP server option that is typically used for this capability. However, currently (as of version 5.2) controllers cannot support this option.
DNS discovery
The AP can discover controllers through your Domain Name System (DNS) server. The DNS server must be configured to return controller IP addresses in response to CISCO-LWAPP-CONTROLLER.local domain.
4. Once the APs join the controller, the primary, secondary, and tertiary controllers of the AP can be manually configured to join upon the next boot up, unless the master controller is chosen (Controller > Advanced > Master Controller Mode).
Note that the AP will cycle through all discovery methods to compile a complete list of controllers before selecting a WLC for joining. Also note that WLC version 5.2 changes the default tunnel protocol from LWAPP to CAPWAP.
Reference
DHCP OPTION 43 for Lightweight Cisco Aironet Access Points Configuration Example