Options
Mark as New

Mark as Read

Bookmark

Subscribe
I was very happy to organize the Cisco Designated VIP dinner at Cisco Live Barcelona this year. It has been amazing to be able to meet all the Cisco Community and Cisco Learning VIPs that usually attend CLEUR. This was my first European Cisco Live event and it was fantastic! Thank you all for making the effort to attend. The appreciation dinner took place at iconic Catalonian restaurant 7 Portes. I loved the interaction and the stories you all shared. This has been the largest Cisco Designated VIP gathering in Europe since we started the program.
We had Hall of Fame Peter Paluch, Cisco Community VIPs Mohammed Al Baqari, Rob Ingram, Marius Gunnerud, Sandeep Choudhary, Paul Driver, Marvin Rhoads and Karsten Iwen; and Cisco Learning VIPs David Peñaloza, Sergey Lisitsin, and Daniel Larsson. Denise Brittin, Rigo Villa and myself attended from Cisco. We missed Hall of Fame Joe Clarke who could not make it.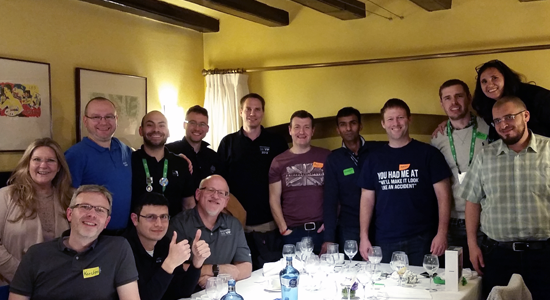 From left to right: Karsten, Denise, Rigo, Peter, Marvin, David, Sergey, Daniel, Paul, Sandeep, Marius, Rob, Monica and Mohammed
The food was delicious starting with some anchovies, salads, the traditional catalonian "pan con tomate" (bread with tomato) and "jamon serrano". The main entries varied from the traditional paella to sirloin steaks. And for dessert we could not miss the "Crema Catalana".
Meeting our Cisco Designated VIPs and Hall of Fame members in person is not only fun but most importantly provides an opportunity to share experiences, feedback and ideas. Once again we at Cisco continue to be amazed with your enthusiasm and loyalty to Cisco products, solutions and services. Your contributions to Cisco Community are invaluable and we all know that Cisco Community would not have been where we are today if we didn't have your dedication and avid participation.
The dinner could not be complete without the traditional raffle. The two lucky winners were Sandeep Choudhary and David Peñaloza. Congratulations!
The evening ended with a surprised happy birthday to Denise!
4 Comments
You must be a registered user to add a comment. If you've already registered, sign in. Otherwise, register and sign in.