Beginner
Mark as New

Bookmark

Subscribe

Mute

Email to a Friend
Hi,
I am trying to create a new line using addLine (POST API) , one of the paramenter is enterprise alternate number.
When I create a new line i am using the following XML parameters:
<soapenv:Envelopexmlns:soapenv="http://schemas.xmlsoap.org/soap/envelope/"xmlns:ns="http://www.cisco.com/AXL/API/12.5">
<soapenv:Header/>
<soapenv:Body>
<ns:addLine sequence="?">
<line>
<pattern>1590000</pattern>
<useEnterpriseAltNum>true</useEnterpriseAltNum>
<enterpriseAltNum>
<numMask>XXXXXXX</numMask>
<isUrgent>false</isUrgent>
<addLocalRoutePartition>true</addLocalRoutePartition>
<routePartition uuid="?">Global Learned Enterprise Numbers</routePartition>
<advertiseGloballyIls>true</advertiseGloballyIls>
</enterpriseAltNum>
</line>
</ns:addLine>
</soapenv:Body>
</soapenv:Envelope>
The line was created successfully but without enterprise alternate number configuration.
I configured it menually and use getLine , I tried to use the returned value with addLine but enterprise alternate number was not configured.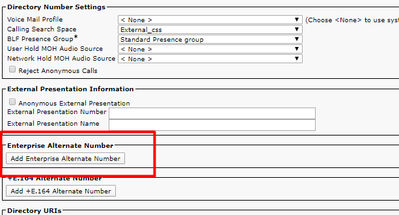 Any suggest?
1 ACCEPTED SOLUTION
Beginner
Mark as New

Bookmark

Subscribe

Mute

Email to a Friend