Options
Mark as New

Mark as Read

Bookmark

Subscribe

Email to a Friend
‎01-21-2013 06:00 AM - edited ‎03-12-2019 09:57 AM
Introduction
The Digital Signal Processor (DSP) Resource Calculator is a web-based tool that helps calculate the number of DSPs required on the system. It also determines the number of calls that can be handled simultaneously, taking into consideration each of the Coder-Decoder (codec) standards. This tool requires information such as the platform type, Cisco IOS release number and Interface modules to calculate the DSPs. This document provides information on how to calculate DSPs for TDM Voice service and Video conferencing service.
Why do you need DSP?
No. of DSPs required = Voice Termination + Audio IP Services + Video IP services
1. Voice Termination
TDM Trunk Termination
DSP Sharing
H.320 TDM Video
Audio Security
2. Audio IP Services
Audio Conferencing
Audio Transcoding
Audio Security
DTMF interworking
Acoustic shock prevention
Media Forking
3. Video IP Services
Video conferencing
Video Transcoding
DSP Media Resources
Audio Conferencing: Mixing RTP streams for multi-party conference bridges
Audio Transcoding and Transrating: Support multiple codecs on the same call (e.g., G.711-G.729A)
Video Conferencing: Mixing video streams for multi-party conferences
Cisco Unified Border Element: Media Enhancement, Acoustic Shock Prevention, Noise Reduction, Video Quality Metrics, Transcoding and Transrating
Voice Termination: Terminating TDM trunks and encoding, compressing and packetizing the voice.
Codecs and Transcoding Type
Codecs and Transcoding Type

Codecs
Low complexity: G.711, clear-channel, fax/modem passthrough
Medium complexity: G.729A/G.729AB, G.722, G3 fax relay
High complexity: G.729/G.729B, iLBC, SG3 fax relay, modem relay
Very High complexity: ISAC
Transcoding type
Traditional: G.711-any
Universal: Any-to-any
Secure transcoding (CME only)
Transcoding and Transrating

What is Transcoding?
Support multiple codecs on the same call.
G.711-any transcoding
Any-any transcoding (universal),
e.g. iLBC to G.722
H.323 and SIP
Universal transcoding support
CUBE as of 12.4.20T
CUCM as of 7.1.5
What is Transrating?
Different packetizations of the same codec. E.g. G.729A 20ms to G.729A 30 ms
SIP-SIP Support only
CUBE support as of 15.0.1M
How to Calculate DSPs?
DSP Calculation Tool supports, ISR G1/G2: 2800/3800, 2900/3900, PVDM2 & PVDM3
http://www.cisco.com/go/calculator
1. DSP Requirement for TDM Gateway Service & Call volume calculation
Click --> Next
Click --> Next
2. DSP Requirement for Video Conference Service

Click --> Next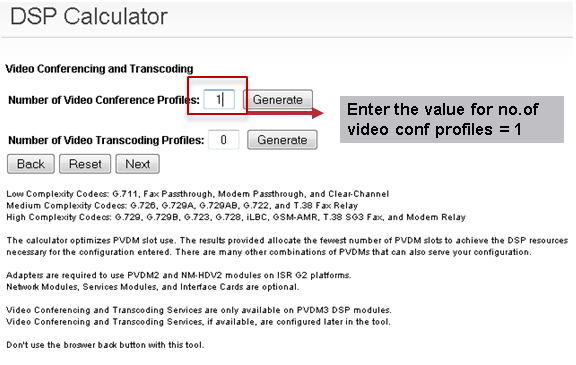 Click --> Next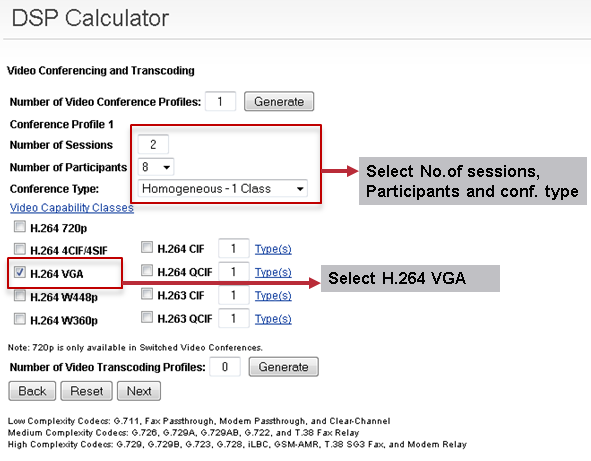 Click --> Next
Understanding the output of "show voice dsp group all"
Related Information