Options
Mark as New

Mark as Read

Bookmark

Subscribe

Email to a Friend
‎11-28-2017 02:05 PM - edited ‎07-15-2019 01:29 AM
** updated on 15 July 2019
What is Webex Room Device subscription?
Cisco Webex cloud offers, among other services, a Room Device subscription.
This allows you to get a Cisco Video endpoint (DX, SX, MX, Room kits, Webexboards) and register it on the Webex cloud via SIP protocol.
Nothing is required on premises - only internet connectivity.
Why should I choose cloud registration and not run Video endpoints in standalone mode?
In the very old days, it was common to run Video endpoints in H323 standalone mode (without callcontrol/registration), use public IP addresses, open ports on firewall and make calls with IP address dialling.
This has obvious caveats from various aspects:
- usability (SIP URI is much better way to dial than IP addresess - users do not need to know what is an IP address :-) )
- administration effort and troubleshouting (thousands of hours lost to troubleshout firewall issues - many times video call was a ''project'')
- security (cloud has security mechanisms and you don't need to open ports on firewall and deal with public IP addresses)
- flexibility (endpoints can be moved at any place without worry)
- reportings/analytics(cloud offers this vs zero view you had in the past)
- features (new features like scheduling, pairing with clients, voice assistants and many more are offered via cloud registration)
What can I do with a Webex registered Video device?
a) SIP video calls (including calls to Webex Meetings)
When you register to Webex cloud, your endpoint gets a SIP URI.
SIP URIs are like email format and in this case, they have this format: placename@companyA.room.webex.com
''placename'' is chosen by customer and reflects the place of the endpoint - most of the times the name of the meeting room
''companyA'' is also chosen by customer and reflects most of the times company name.
So this means, you can make and receive SIP video calls with other SIP-based systems over internet.
These could be Cisco or non-Cisco video endpoints or MCUs.
Since Webex Meetings supports joining via SIP, you can, off course, join Cisco Webex Meetings meetings.
And there you could meet with H323/S4B/Lync and webex/browser participants.
Note that recenty Webex Meetings app was enhanced to be able to pair wireless with Video endpoints for sharing content wirelessly or use Video endpoint to join Webex Meeting in an easy way.
On top of above, note that Webex Teams client has a SIP URI so this means you can make/receive direct SIP calls between Webex-registered video endpoints and Webex Teams clients (free or paid).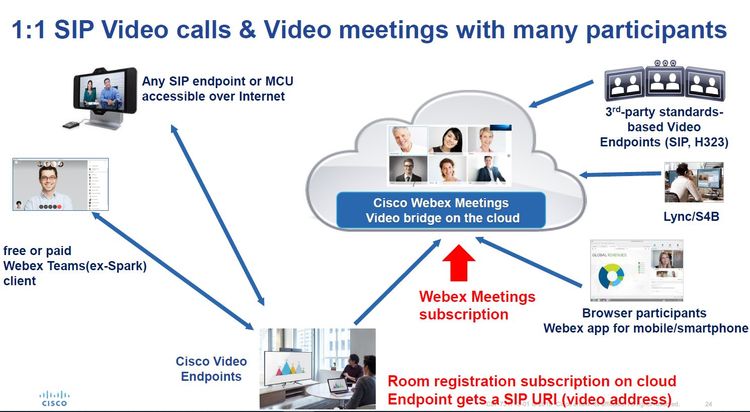 Important note:
Webex Room Device subscription is different than Webex Meetings subscription.
Webex Room Device subscription is a cloud SIP registration service for a video endpoint.
Webex Meetings subscription is a cloud MCU/conferencing service.
So in most customers cases you need both subscriptions (one to register endpoints and one for Webex Meetings services).
But note that there might be cases that customers need only Room Device subscription since they might have another MCU service
and not Webex Meetings.
b) Joining Video Meetings inside Webex Teams
You can use Webex-registered endpoints to pair with a Webex Teams client and join a Video Meeting inside Webex Teams space. Or you can join a Video meeting inside Webex Teams as guest via SIP if host invites you.
------------------------------------------------------------------------------
For partners - How to order ?
If you need Room Device subscription and Webex Meetings then you can use A-FLEX top level sku to order both subscriptions.
If you need only Room Device subscription then you need to use A-FLEX-DEVICE top level sku.
Notes:
1) Customers that have Flex EA or FleX Active User or Education subscription have Room Device subscriptions included at no extra charge. No need to order anything.
2) A-SPK-SH was an old top level sku for Room Device subscription orders - this goes end of sale.
3) MSRP path that was there besides GPL path for ordering endpoints and Room device subscriptions - this goes end of sale also.
--------------------------------------------------------------------------------
For more information, check other community posts on Webex Video devices and Webex Meetings:
https://community.cisco.com/t5/collaboration-voice-and-video/looking-for-info-on-cisco-collab-solutions/ta-p/3649062
--------------------------------------------------------------------------------
please rate if you find this useful
rgds
Alkiviadis
DISCLAIMER: this post was created in order to provide useful info to Cisco partners and customers in my area (Greece/Cyprus and Malta). For official and updated information, please consult cisco documentation, datasheets and ordering guides.