edited on:

‎11-03-2018

‎12:00 PM
INTRODUCTION
Cisco Webex cloud solution offers various services:
1) Webex Meetings
// most common option-used for Meetings-offers great interop
// with SIP/H323/S4B/Lync Video systems
2) Webex Trainings // special Webex edition for trainings
3) Webex Events // special Webex edition for events
4) Webex Support // special Webex edition for support
High level comparison of the above Webex centers can be found here:
https://www.cisco.com/c/en/us/products/conferencing/product_comparison.html
Info on Webex Meetings solution:
(Web and Video conferencing solution - ''a Video MCU on the cloud''- with unique interoperability)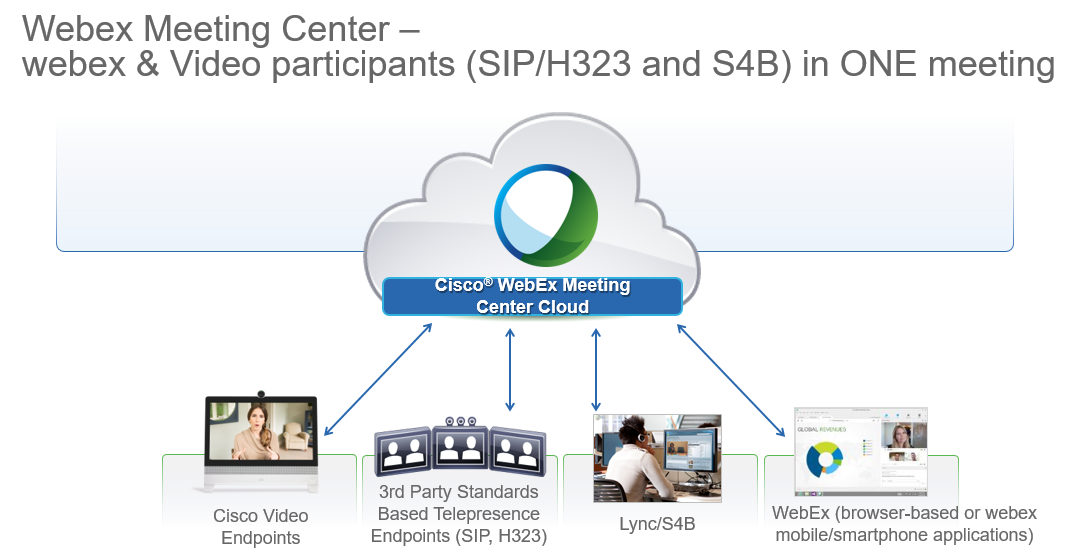 This is the most common offering - it is a very advanced Webex and Video conferencing cloud solution with unique interoperability. Webex Meetings allows webex participants (via browser or via webex apps) and also Video participants in same meeting.
Video participants could be Cisco or non-Cisco endpoints, standards-based H323 or SIP video systems and also Lync/S4B clients.
So in summary, anyone can join a Webex Meetings session!!
It provides a rich web conferencing experience (including chat, etc,) for webex participants and also offers advanced features like meeting recording, scheduling, personal rooms, PSTN audio options.
More details:
Cisco Webex Meetings cisco.com page
WebEx Meeting Center: Welcome to Meeting Center
- nice video to see Webex Meeting Center features
Cisco Webex Meetings datasheet
Compare Meetings vendors and solutions
5 reasons more companies choose WebEx meetings
Web Conferencing: Unleash the Power of Secure Real-Time Collaboration White Paper
Webex quick classes (short videos to show you Webex features)
What is the best way to experience Webex Meetings services?
Ask your Cisco partner or Cisco Account Manager for free trial of the service.
What is the best way to order Webex Meetings?
Flex Plan Named User Meetings package is the best way to get Webex for individual users.
For more details, please see below post:

Flex Plan Named User Meetings - best way to get Webex Meetings for individual users
For many hosts or for enteprise agreements, there are other packages to examine:
Flex Plan Named User Meetings Suite - for 25 or more named users orders
Flex Plan Active User Meetings - enterprise-wide agreement, pay as you grow
Also worth checking : Which Webex offers fits my case?
Please coordinate with your cisco partner and cisco account team for further coordination.
-------------------------------------------------------------
please rate if you find this helpful
you can select to follow this post if you want to get updates
for more info on cisco collab, have a look here -->
Looking for info on Cisco Collab solutions ?
brgds
Alkiviadis
DISCLAIMER: this post was created in order to provide useful info to Cisco partners and customers in my area (Greece/Cyprus and Malta). For official and updated information, please consult cisco documentation, datasheets and ordering guides.