Highlighted
Beginner
Mark as New

Bookmark

Subscribe

Mute

Email to a Friend
Cisco CRM Connector for Siebel!
Dear All,
I would like to have some assistance with Cisco Unified CRM Connector for Siebel.
I'm designing an IPCC solution in a totally virtualized environment. however, Cisco CRM connector is not supported yet in such environments.
In addition, as per the BOM for ICM 8.5 the server listed to be used with the CRM connector for siebel (MCS-7845-I1-CC1) is End-of-Sale. So i need to know if a new server is supported by Cisco and if i used the MCS-7845-I3 will it be supported by Cisco TAC.
Moreover, there is two components listed in the BOM: SCM & OM. can those be collocated on the same server??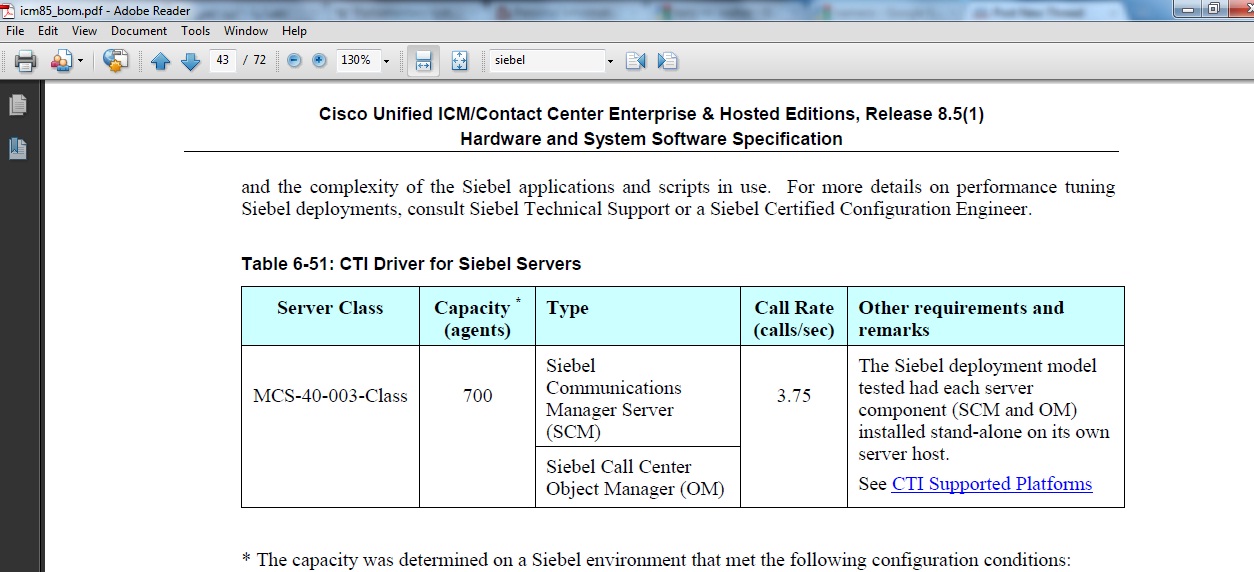 Thanks in advance.
Ahmed Esmat.
Highlighted
Beginner
Mark as New

Bookmark

Subscribe

Mute

Email to a Friend
Re: Cisco CRM Connector for Siebel!
Hello Ahmed Esmat,
I have done some research on this and for your first question , I found the following end of sale doc:
http://www.cisco.com/en/US/prod/collateral/voicesw/ps6790/ps5748/ps378/prod_end-of-life_notice0900aecd8056d459.html
This recommends migrating to MCS 7845-I2. I would suspect that that MCS 7845-I3 would also be supported but you may want to open up a TAC case to confirm and at the same time the TAC Engineer can probably submit a documentation defect to have the document revised.
For the second question, since it has not been tested collocated on the same server it is not supported. You can always contact your account team to put in a request to have this tested if you are looking to have the SCM and OM collocated.
I hope this helps,
Denis