Beginner
Mark as New

Bookmark

Subscribe

Mute

Email to a Friend
Calling Segment Routing experts
Good afternoon everyone. I have a very simple question regarding SR TE using dynamic dynamic candidate path. I am reading C.Filsfils' "Segment Routing Part II" book, in which there is this example: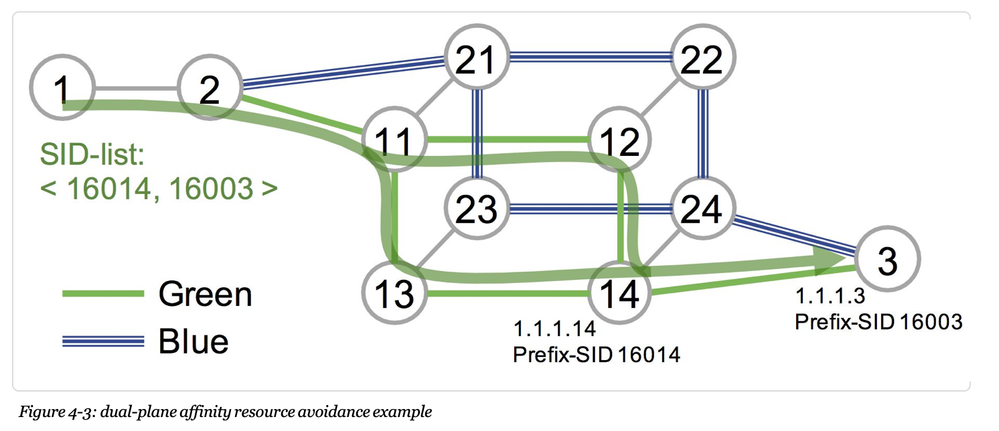 The example given in the book basically has constrain configured on R1 to avoid the GREEN path and that's okay.
Now I have a use case, where my topology is slightly more complicated, but let's say for example, that I have a specific requirement to use the link between routers 23 and 24. Let's say we give this link a color "purple".
Is it possible, following the example topology above, to simply define an alternative logic (e.g. not using exclude-any, but rather using include-any) doing something like this (I don't care if I will go via GREEN or BLUE path in this particular case. All I want to do is the policy to establish a path using the link between 23 and 24):
policy 1-to-3
 color 1 end-point ipv4 1.1.1.3
!   
   candidate-paths
    preference 10
     dynamic
      metric
       type igp
      !
     !
     constraints
      affinity
       include-any
        purple
is this supposed to work or not? My thinking is that the SR should simply follow best-path to Router 23 then using either prefix sid for 24 or an adjacency sid to get across that particular link. Is "include-any" an implicit method where the path is built based on any of the specified colours only and therefore that won't work as there isn't a purple link available from 1 to 23? I am aware of other methods I can use but I am wondering if I can simply give a link in the network a color and then simply define a policy saying "use this link"?
Hope that makes sense and thanks in advance for your time.
1 ACCEPTED SOLUTION

Cisco Employee
Mark as New

Bookmark

Subscribe

Mute

Email to a Friend
Hi Daniel,
> is this supposed to work or not?
No, it won't. As you mentioned, the remaining links are not colored with purple.
Regards,
Harold Ritter
Sr Technical Leader
CCIE 4168 (R&S, SP)
harold@cisco.com
México móvil: +52 1 55 8312 4915
Cisco México
Paseo de la Reforma 222
Piso 19
Cuauhtémoc, Juárez
Ciudad de México, 06600
México