Options
Mark as New

Bookmark

Subscribe

Mute
‎05-03-2018 07:51 AM
The new 2.4 nodes report insufficient licenses with Smart Licensing.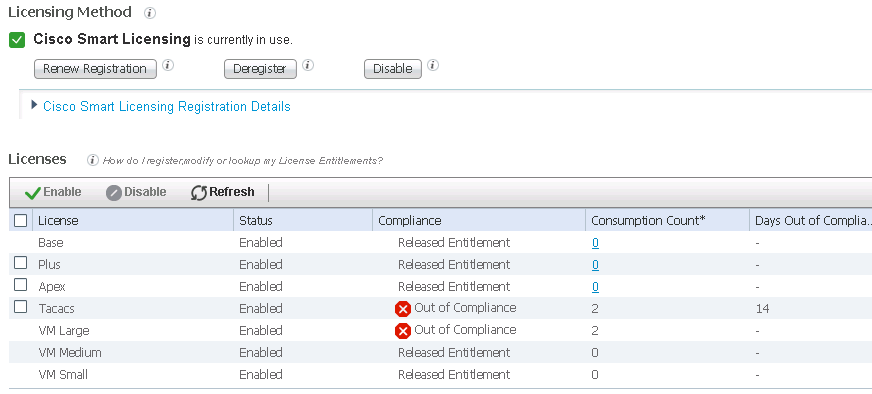 There are two VM-3595 appliances (8 cores, 64 GB RAM) which is considered to be medium VM so it should not consume a large VM license. Cisco licensing team is supposed to provide medium VM license file also. So we are concerned how the usage will be covered.
In addition, due to previous TACACS purchase, we are eligible for 50 TACACS node licenses. Currently only 1 is present. How will we obtain TACACS licenses for each node in Smart Licensing?
I have asked this at ise-vm-license@cisco.com too.
1 Accepted Solution
Options
Mark as New

Bookmark

Subscribe

Mute
‎05-03-2018 07:59 AM
Would recommend you open a defect thru tac, there might already be one
For any licensing issues work with GLO or the ISE product managers
Options
Mark as New

Bookmark

Subscribe

Mute
‎05-03-2018 07:59 AM
Would recommend you open a defect thru tac, there might already be one
For any licensing issues work with GLO or the ISE product managers