Beginner
Mark as New

Bookmark

Subscribe

Mute

Email to a Friend
2 ISP lines on two separate interfaces in separate subnets currently.
Hi All,
Wondering if an Security/SP expert could help me on the following...
My end user has the following topology:-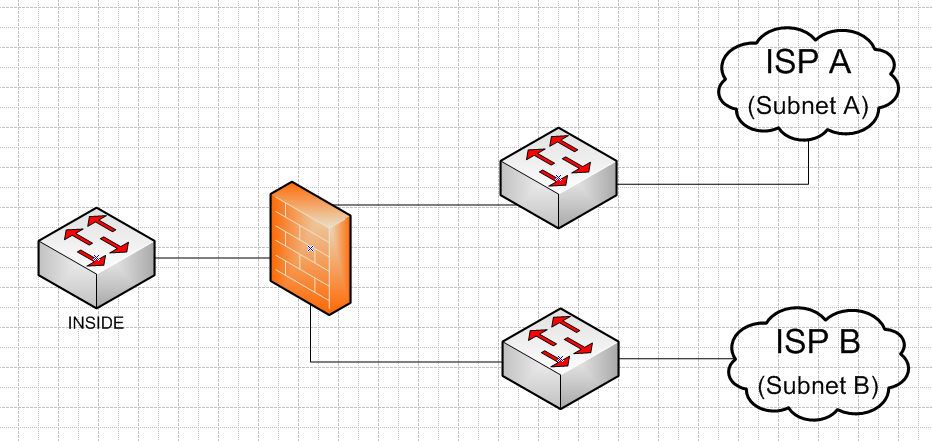 (Note for simplisity I have show a single FW, it is actually a pair in A/S.)
Scienario:-
There are 2 ISP lines on two separate interfaces in separate subnets currently.
I know how to configure a backup route for outbound traffic using IP SLA on the ASA, whereby ISP A is the default and should the chosen tracked IP fail then the backup ISP B will be used for outbound routing.
There will be no load balancing as you need a router for that.
My question is regarding inbound traffic:-
Traffic coming in on ISP A, will also be the default route, so the return traffic will go back out towards ISP A on the same ASA interface… agreed?
Traffic coming in on ISP B though, does the firewall maintain the state table to account for outbound interfaces and will the traffic go back out towards ISP B, or will the default route be used and therefore the traffic fail because
its attempting to go back out the ISP A interface?
Hope this makes sense.
Additionally I was wondering if there is any official Cisco documentation to provide my end user for the above.
Kind Regards,
Liam
1 ACCEPTED SOLUTION
Mark as New

Bookmark

Subscribe

Mute

Email to a Friend
Hi,
To my understanding the situation is the following
Any inbound connection to your network from either ISP will have its return traffic flowing through the ISP interface where it came from
Any outbound connection from your network will flow through the ISP holding the active default route on the ASA firewall UNLESS there is a destination NAT that overrides the routing table
Since this has been asked in 2 threads today and one yesterday already (and I havent used this setup myself) I think I will just lab this at home later today (currently 12.30 here in Finland so I am still at work)
So will post later about the test.
- Jouni