Cisco Employee
Mark as New

Mark as Read

Bookmark

Subscribe

Email to a Friend
What is PON ?
A Passive Optical Network (PON) is a point-to-multipoint architecture which use a single strand of single mode fiber to deliver voice, video, data to several users (or devices). PON network uses passive splitters in the optical distribution network (ODN) , enabling one single feeding fiber from the central location to serve multiple homes and offices.ODN is located between OLT and ONT , connecting one OLT and multiple ONTs to provide bi-directional optical signal transmission.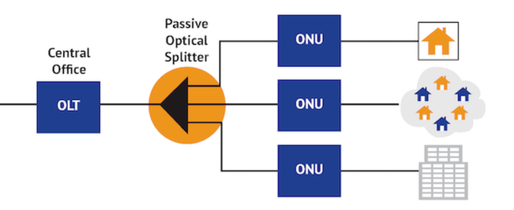 Cisco Catalyst PON Series
Catalyst PON Series offer Competitive network solution with high performance, simple management , and easy maintenance by providing 2.5 GB/s of downstream bandwidth and 1.25 GB/s upstream bandwidth.The three main network components of Cisco Catalyst PON series are the Optical Line Terminal (OLT),the Optical Network Terminal (ONT) and Cisco Catalyst PON Manager.
Cisco Catalyst PON OLT
Cisco Catalyst PON OLT is a centralized 1RU access point for the entire LAN, capable of serving many users and devices. There are two of Cisco Catalyst PON OLT models today, 8 port (CGP-OLT-8T) and 16 port (CGP-OLT-16T), to support all types of deployment: Hospitality/healthcare, Public sector and Commercial Buildings.
Cisco Catalyst PON ONT
Cisco Catalyst PON ONTs are the user access point controlled by the OLT and can deliver superior services with Gigabit bandwidth to every user. There are five ONT models providing a wide range of 1GE fan less deployment options, including data, POTS, CATV and Wi-Fi. All are managed by the Cisco Catalyst PON Manager.
● 1x 1G PoE+ (CGP-ONT-1P)*
● 4x1G PoE+ (CGP-ONT-4P)
● 4x1G PoE+, 2xPOTS (CGP-ONT-4PV)
● 4x1G PoE+, 2xPOTS, 1xCATV (CGP-ONT-4PVC)
● 4x1G, 2xPOTS, 1xCATV, 2.4GHz/5GHz Wi-Fi (CGP-ONT-4TVCW)*
* Target , 2021
Cisco Catalyst PON Series switches ( OLTs and ONTs) are covered by a Cisco standard 3-year replacement warranty that includes 10-day advance hardware replacement.
Cisco Catalyst PON Manager
Cisco Catalyst PON Manager is an GUI-based device-management tool that provides the ability to provision the device, to simplify device deployment and manageability, and to enhance the user experience. It supports Alarm, Performance, Data Configuration and Delivery, Security, Log, Terminal Management and software batch upgrade functions. It is available to our Cisco Catalyst PON series users with no additional cost.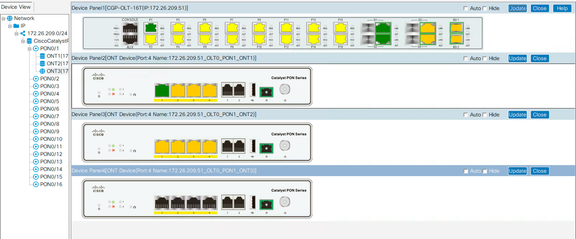 The Cisco Catalyst PON Manager adopts client/server structure. That is, a server connects with several clients in the Cisco Catalyst PON Manager. The PON Manager Server provides network nodes (OLT or ONT) data processing and storing functions. Users can operate and maintain network nodes via the PON Manager Client. The following figure shows the Cisco Catalyst PON Manager's architecture.
For more information on Cisco Catalyst PON Manager, please reference below link:
https://www.cisco.com/c/en/us/td/docs/switches/lan/catalyst_pon/overview_guide/b-cisco-catalyst-pon-manager-overview-guide/overview_guide.html
Passive Optical Splitter
Passive Optical Splitter is major component in PON network that split the fiber and its signal. A signal from OLT is sent along the single strand fiber cable. When a signal reaches to a passive optical splitter, split into multiple output.Cisco Catalyst PON series can support up to 1:128 ratio ( 1:64 is recommended). Although how splitter works is very simple, proper splitting ratio design is required when designing a PON network.
Splitting Ratio Design
The most common optical splitter deployed in a PON network is a splitter with a 1:N or 2:N splitting ratio, where N is the number of output ports. Different splitting ratio will provide different network performance as well as different distance between OLT and ONT.
For highest capacity of bandwidth, connecting fewer ONTs to a single PON port could provide 20km distance with the full bandwidth of the PON port. Each PON ports can provide 2.488 Gbps downstream and 1.244 Gbps upstream.
For highest capacity of users, a splitter with a 1:128 ratio connected to a PON port could provide 128 clients with equal bandwidth of approximately 19 Mbps download and 9 Mbps upload bandwidth when all endpoints are within a range of approximately 8Km distance.
Cisco Catalyst PON Optics
Cisco Catalyst PON series support Class C+ optic to support maximum optical power loss. Class C+ optics can provide longer reach of 20km with most of splitter ratio.
Cisco Catalyst PON Type B Protection
When a fault occurs on the Cisco Catalyst OLT port or fiber cable, services can be switched to the functional optical fiber.Below diagram shows a GPON type B protection network. The protection covers the active and standby PON ports on the OLT, and the active and standby optical fibers.
If the optical fiber connected to the active port is broken or no upstream optical signals are received because the active port malfunctions, the standby port can detect and will handle the traffic.
Summary
Catalyst PON Series switches are the industry's All-Optical solution with differentiated resiliency and progressive architecture for cost-effective optical network access. With enterprise-grade features like power supply and uplink redundancy, PoE+, and an ease of operations, the Cisco Catalyst PON Series gives you what you need today with the confidence that your investment is protected with future innovations to come.
Useful links:
Cisco Catalyst PON Series Switches Data Sheet
Understand GPON Technology
Cisco Catalyst PON Series At-a-Glance
Catalyst Catalyst PON FAQ
You must be a registered user to add a comment. If you've already registered, sign in. Otherwise, register and sign in.