Cisco Employee
Mark as New

Mark as Read

Bookmark

Subscribe

Email to a Friend
With today's day and age, connectivity has become ubiquitous. Not only do people expect a reliable and fast connectivity in their offices, but also at their favorite coffee shops and grocery stores. Setting up the network to provide such connectivity is not everybody's cup of tea; setting these networks is complex and time consuming and most of the times small business with little to no in-house expertise, end up hiring third party companies to do such tasks. Now, with the introduction ofCatalyst 2960-L Smart Managed switches small businesses would no longer need to worry about setting up their access network.
Bringing years of expertise to masses
The unparalleled knowledge and expertise of Cisco engineering and sales teamshas been synthesized and provided to the customers in a simple, and easy-to-consume Day 0 Wizard required to configure their networks. We broke down the boundaries between a Switch and an Access Point by allowing users to configure not only their Catalyst 2960-L series switches, but also Mobility Express Access points from the same Web UI thus allowing small business a single pane of glass to configure everything they need to provide connectivity to their customers.
Set up your small office in just three clicks!
Using day 0 wizard, powered by Cisco Configuration Professional for Catalyst (CCPC) is simple and quick! Power on the switch, connect the Access Point to any port and press the mode button on the switch, and the Day 0 Wizard is ready for you to configure.

Once you enter the wizard, there are just three steps that a user needs to follow in order to complete their network's configuration. The wizard provides for context based helps and tips providing detailed overview of what that particular field really means and how the user should go about completing them. First, it asks for some basic configuration required to identify and connect to the devices followed by interface configuration wherein the user provides their network segregation intent, and enabling SVIs and DHCP Services over these network segments has never been easier.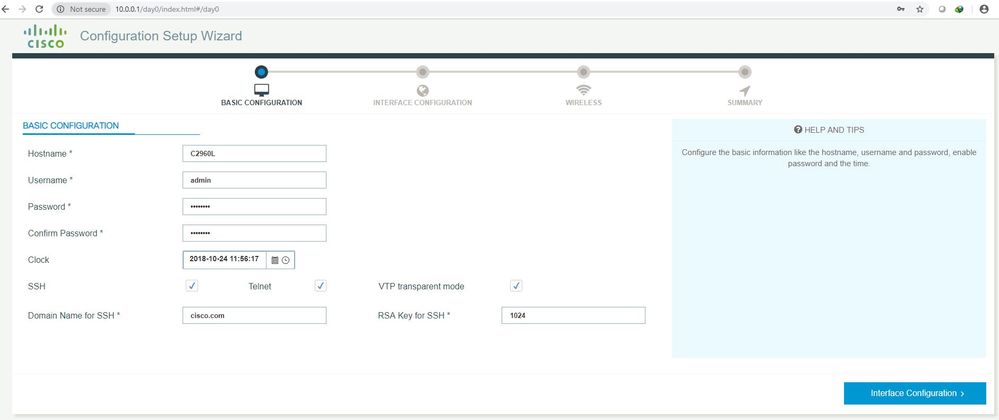 Lastly, the wizard would ask for Wireless specific details which it could not derive from the previous two steps such as the Country to determine RF parameters, SSID and the security mechanism to authenticate clients over.

Once a user finishes these three steps, they have successfully set up their entire access layer in one go Cisco recommended best practices enabled out of the box. So, all the people, who could not get their SSID to work because they either did not allow proper VLANs on switchport or did not set the correct native VLAN for AP management network, worry no more, Cisco is here for you! Once the network is set up, CCPC also provides a comprehensive dashboard to allow customers to monitor their device from a single pane of glass.
Conclusion
Cisco has been a leader in enterprise networking for decades and now brings the same reliability and enterprise quality to SMB with the introduction of new Catalyst 2960-L Smart Managed switches. Together with Cisco Catalyst and Mobility Express, customers do not need to be IT experts to set up their network with ease and quickness.
So why settle for "good enough" when you can have the best– Cisco!
2 Comments
You must be a registered user to add a comment. If you've already registered, sign in. Otherwise, register and sign in.