Options
Mark as New

Mark as Read

Bookmark

Subscribe
Hello? Hello…? Are you there? Can you hear me? What about now? Hellooooo? Ugh!
We've all been there before… phone in the air, walking around, trying to find a better signal. It's frustrating, inconvenient, and disruptive to our conversations - if we're even able to have one at all! Where are we usually when this occurs? Oftentimes it happens when we're in a basement, inside a building with thick walls, or surrounded by obstructive objects (i.e., tall trees, mountains, skyscrapers). And what do we do about it? Generally, we take our phone and go outside or try to get to higher ground to obtain better reception. Thankfully this is easy to do with our small portable devices in our everyday lives – but what can we do when we face similar cellular connectivity issues in our modern enterprise WANs?
The answer is: Catalyst Cellular Gateway!
In October 2020, Cisco launched the Catalyst Cellular Gateway providing customers with the ability to add cellular connectivity to their WANs without the need to change their existing infrastructures. However, before we dive into the greatness of the Catalyst Cellular Gateway, let's briefly review the other existing solutions in the wireless WAN portfolio. Cisco offers a variety of platforms that support LTE modules such as the ISR 1000 Series, ISR 4000 Series, and Catalyst 8200/8300 Series, as well as platforms with already embedded LTE such as the ISR 1000 Series and ISR 900. The Cisco Cellular Gateway is compatible with all of these platforms as well as other platforms such as the ASR 1000 and Catalyst 8500 Series that do not have built-in LTE options.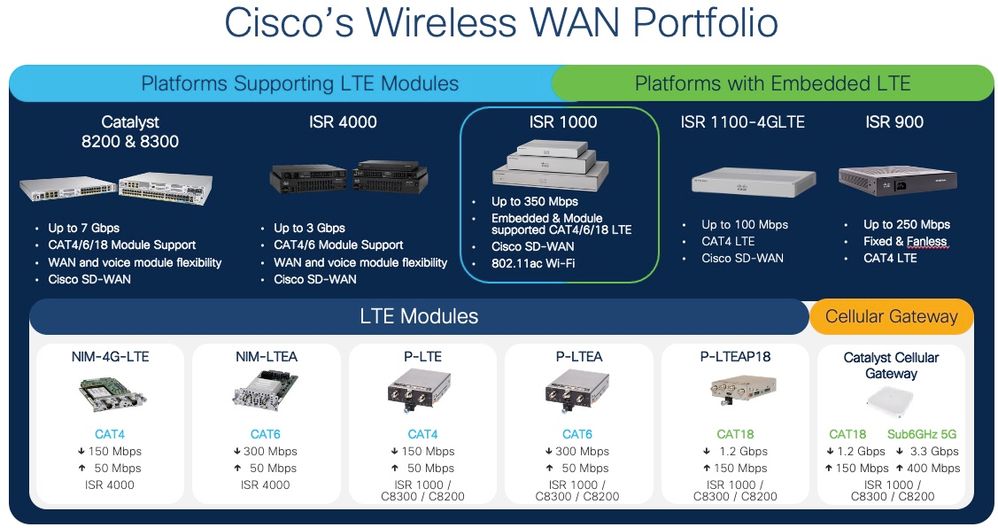 These platforms work well to bring cellular connectivity to certain networks, but what if your router stack is buried deep inside your building and you're not able to get strong connectivity? You certainly have no desire to move the stack up a few floors and financially you're not in a position to buy additional platforms. So, what can you do? You already know the answer… Catalyst Cellular Gateway! The Catalyst Cellular Gateway provides a simple, cost-efficient solution for on-premises cellular connectivity and can bring Advanced Pro 4G LTE and 5G to any device in a signal impaired environment.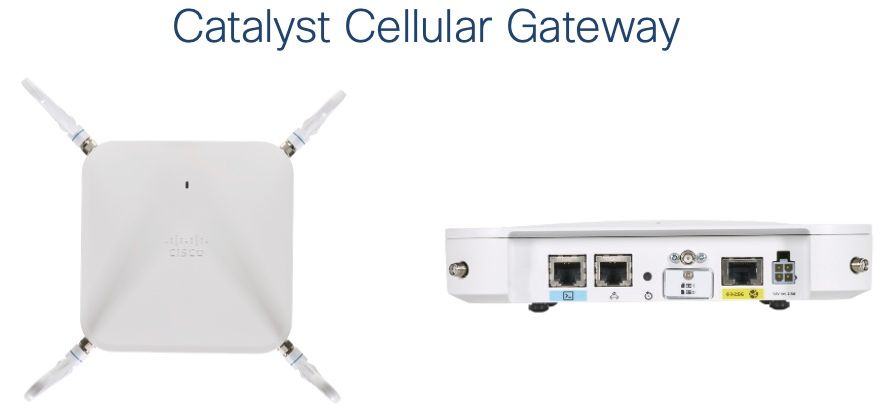 Let's finally dive into the Catalyst Cellular Gateway, how it works, and what it has to offer for your WAN. The Catalyst Cellular Gateway can be connected to a router via an ethernet cable and placed anywhere in the building where there is strong cellular signal reception – for example, next to a window or mounted near the roof. You can use the provided indoor antennas or extend the antennas outdoors to the Cellular Gateway platform that is still indoors.
A DHCP client server relationship takes place between the Cellular Gateway operating as the server and network devices as the clients taking advantage of the wireless connection. The Cellular Gateway communicates with the service provider, receives an IP address, and passes it on to the router via DHCP to use on the WAN interface that it is connected to - therefore it is called an IP pass-through device. It's important to note that the Cellular Gateway and the connected router should be the only two devices in the VLAN if the facilities switching infrastructure is used. Otherwise, a direct connect cable between the units will work and be able to deliver PoE power to the Cellular Gateway.
While delivering high-speed wireless WAN, the gateways can be combined with SD-WAN to automate deployment, manage policies, and monitor network traffic. Some of the key benefits and features of the Catalyst Cellular Gateway include:
High speed: Multigigabit 4G or 5G connectivity for primary or failover cellular WAN.
Flexible, scalable deployment: Compact size and combability with existing infrastructures for easy deployment from any location where cellular reception is strongest.
Simple, centralized management: Zero-touch provisioning and easily managed from a single user interface.
Secure by design: Includes trustworthy solutions and failure recovery using Dying Gasp.
The Catalyst Cellular Gateway is currently offered in two variations: CG418-E (CAT18 Advanced Pro 4G LTE) and CG522-E (Sub-6 GHz 5G). The variations have the same form factor, same security profile, and same connectivity options, but differ in the radio technology and speeds. The table below shows a brief comparison of the two models: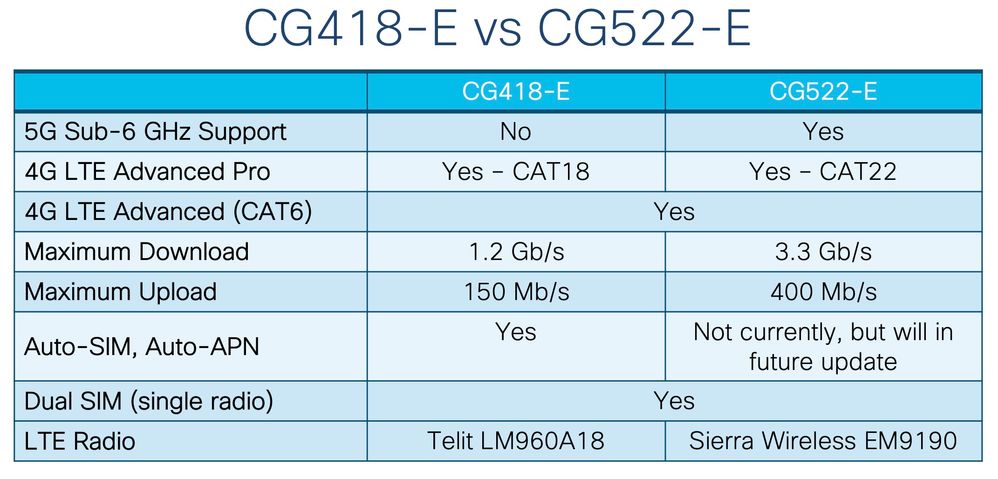 Sounds great, huh? But wait, there's more! You can manage the Catalyst Cellular Gateway 4 different ways:
1) Using the on-box WebUI that comes built-in with the operating system that is used to configure, manage, and monitor routers.
2) Using vManage, an off-box management tool, to manage both the Cellular Gateway and the router.
3) Using vManage to manage the Cellular Gateway while managing the router independently.
4) Using a service provider-managed vManage to manage the Cellular Gateway and a completely separate customer-managed vManage to manage the router.
The Cisco Catalyst Cellular Gateway brings high-speed cellular connection to virtually any Cisco platforms enabling customers to easily migrate to an Advanced Pro 4G LTE and 5G wireless WAN without changing existing infrastructure. The Catalyst Cellular Gateways provides deployment flexibility, investment-protection, and ease of management with the ability to connect hard-to-reach areas.
Don't wait any longer! Learn more now:
Collaborators: @Kureli Sankar & @droten
You must be a registered user to add a comment. If you've already registered, sign in. Otherwise, register and sign in.