Cisco Employee
Mark as New

Mark as Read

Bookmark

Subscribe

Email to a Friend
With increased deployments of high-performance connectivity solutions there is need to maximize security, network speed, bandwidth and efficiency. Fiber to the office/desk etc. (FTTx) is not a new concept, however it is viewed as a key pillar in driving the next generation Access network designs. FTTx extends fiber infrastructure to the end user, eliminating the requirement for an IDF, in turn reducing real estate cost, power consumption as well as cable infrastructure cost. The FTTx switches are deployed right next to the end devices (PC's, IP Phones, cameras etc.) with uplinks connecting directly to the MDF which provides superior bandwidth as well as extended reachability. Keeping all this in mind, Cisco has launched the new Catalyst Micro Switch series that are purpose-built for FTTx deployments and decentralized network designs for widespread applications and demands in industries such as Enterprises, Healthcare, Airports etc.
The Cisco Catalyst Micro Switches are ultra-small, managed, Gigabit Ethernet switches comprising of walljack and desktop based fanless models capable of PoE+ on all the downlinks. The switches are powered by trusted and proven Cisco IOS Classic operating system offering a compelling LAN Lite feature set. The switches come incorporated with integrated security features such as IPv4 FHS, 802.1x authentication and Trustworthy Solutions. Trustworthy Solutions ensure that the hardware or the software of the switch can't be tampered.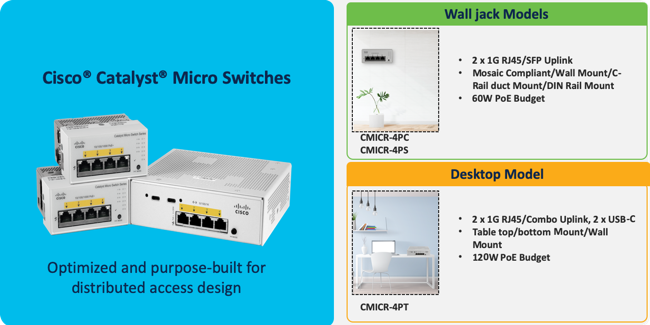 Distributed network designs using fanless, compact Cisco Catalyst Micro Switches
The Cisco Catalyst Micro Switches offer flexible mounting options, opening up a variety of distributed network designs and connectivity opportunities illustrated below. These deployment models provide several benefits such as space optimization, security control and energy efficiency, among others.
Deliver Power anywhere via UPOE+ Powered PoE pass-through Operations
The desktop micro switch model can be powered by Cisco UPOE+ via the copper uplink and can further pass PoE to end devices using standard Ethernet cabling infrastructure. This is an ideal solution for deployments/locations where there is no provision to install a power supply or there is no access to power outlets. The pass-through power can be combined with power from the switch's auxiliary input to provide higher PoE budgets for connected endpoints. The desktop-based model also offers 2 USB-C ports which are capable of providing 60W combined PoE budget, ideal for powering/charging end devices like phones, tablets, etc. and capable of PoE+ on all the downlinks.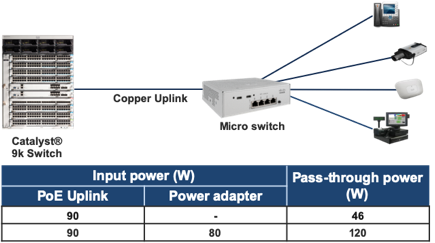 Rip and replace of existing installations
The Catalyst Micro Switches support flexible mounting options including wall mount, C-rail duct mount, DIN rail mount and desk top and bottom mount. The switches are designed in a such a way that a customer can leverage the benefit of pre-existing third-party mounting accessories and power supply installations. The walljack models conform to MOSAIC 45x45 Industrial standard which allows direct mounting into compatible ducts without any accessories.
Management at scale
These switches are Cisco DNA-ready and can be used as part of Cisco DNA Center architecture. The Cisco DNAC provides access to base automation, assurance and design capabilities which enable customers to provision and administrate hundreds of switches from a single pane of user interface. The automation capabilities include services like SWIM, PnP and template-based provisioning which help to accelerate network device provisioning, enhancing productivity and reducing downtime. The Cisco DNAC along with assurance capabilities like network/client health, device level issue and inventory discovery delivers proactive monitoring and optimization of the network. Cisco Prime infrastructure can also be used for network lifecycle management.
Seamlessly extend your IBN infrastructure
The Switches can also be used as a Cisco SD-Access extended node to seamlessly integrate connected wired and IOT end points to IBN infrastructures. SDA extended node provides Cisco DNAC automation and assurance for Cisco Micro Switches and extends fabric benefits to end points connected to the switches, allowing consistent segmentation and policy-based access.
Conclusion
The new Cisco Catalyst Micro Switches bring Cisco Catalyst quality for FTTx deployments. These switches are ultra small, fanless, managed, Gigabit Ethernet switches offering flexible mounting options and enabling a variety of network designs and connectivity opportunities.
Learn more and References:
Cisco Catalyst Micro Switches product page
2 Comments
You must be a registered user to add a comment. If you've already registered, sign in. Otherwise, register and sign in.