Cisco Employee
Mark as New

Mark as Read

Bookmark

Subscribe

Email to a Friend
This week at Cisco Live Barcelona, innovators from around Europe and the world will come together to learn about the latest technologies. As the World of Solutions buzzes with excitement around new products and solutions, Cisco Champions, customers, partners, engineers, and marketing managers will fill the Podcast Domain in the Gateway to discuss pertinent topics in the world of Enterprise Networking. We're streaming in real time on the Enterprise Networks, Mobility, and Internet of Things Facebook pages as these networking experts exchange views.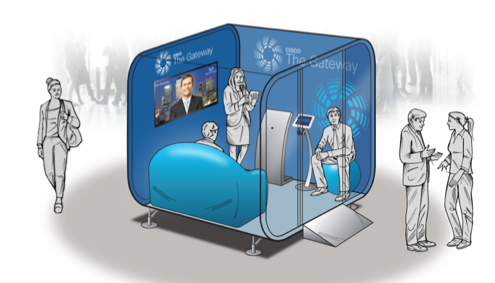 Take the Complexity out of your Network with Software-Defined Access
Tuesday, January 30th, 11:00am CET/5:00am EST
Facebook Live channels: Enterprise Networks and Mobility
Built on the principles of Cisco's Digital Network Architecture (DNA), Software-Defined Access provides automated end-to-end segmentation to separate user, device and application traffic without redesigning the network. Hear from Cisco customer, Jade University of Applied Sciences, about how they have benefited from deploying SD-Access and learn their plans for the future as the network evolves.
Ask the IoT Whiz—The Future of IoT: Connected Cities and Industries
Wednesday, January 31st, 1:30pm CET/7:30am EST
Facebook Live channels: Enterprise Networks and Internet of Things
The Internet of Things—connected devices, sensors, and automated technology—is revolutionizing nearly every industry. In this episode of #CiscoChat's Ask the IoT Whiz podcast, Cisco Customer Linz AG describes the effect of IoT initiatives on their city and where they see a potential for impact in the future. Participants further elaborate on how to securely connect and manage an increasing number of devices, how make sure the right policies are applied, and how DNA Center can help customers reach their IoT goals.
Increase Operational Efficiency with Operational Insights and Your Cisco Wireless Infrastructure
Wednesday, January 31st, 3:00pm CET/9:00am EST
Facebook Live channels: Enterprise Networks and Mobility
Enterprises are looking to connected devices to help streamline their operations. But, too often, these connected devices are proprietary and don't talk between themselves. In this podcast, Cisco Champion Pieter-Jan Nefkens explains how Cisco Operational Insights can deliver an end-to-end view of the operational workflow by leveraging the Cisco wireless infrastructure.
Enhancing the CMX Customer Experience
Thursday, February 1st, 1:30pm CET/7:30am EST
Facebook Live channels: Enterprise Networks and Mobility
Cisco Wireless is the industry standard for connectivity. But with indoor location services, it can be even more so. Using Connected Mobile Experiences, customers can more effectively engage customers and extract critical analytic data to help make better business decisions. During this podcast, Cisco Champion, Daniel Larsson, gives insight into proven best practices for scoping, deploying, and supporting indoor location services.
Meraki Integration with DNA Center
If you're wondering how Meraki fits into The Network. Intuitive, look no further. Leaders from the Meraki Business Unit and Cisco Enterprise Networking Group delve into what DNA Center really is, how the Meraki Dashboard integrates into it, and how all this can help customers in their journey to intent-based networking.
Remember to contribute to the conversation on social media using the hashtags #CiscoPodcast, #CiscoChat, and #CLEUR.
Can't make it to the livestreams? Fear not, you can listen to all the podcast recordings on the #CiscoChat Networking podcast playlist after the show!
You must be a registered user to add a comment. If you've already registered, sign in. Otherwise, register and sign in.