Cisco Employee
Mark as New

Mark as Read

Bookmark

Subscribe

Email to a Friend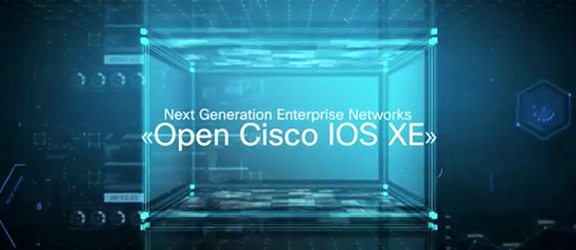 Cisco's IOS XE 16.6.1 is a modern operating system that transforms the network by innovating the entire software stack. The combination of Cisco's newly launched Software-Defined Access (SD-Access) and their ground breaking Catalyst 9000 series of switches is changing networking forever.
Cisco Software-Defined Access (SD-Access) is available on the Cisco Catalyst 9300, 9400, 9500, 3850 and 3650 Series Switches.
In addition to introducing SD-Access, Cisco IOS XE 16.6.1 also unveiled Cisco Catalyst® 9400 switches, which is the industry leading modular switching access platform in the industry built for enhanced security, and IoT.
Cisco completely redesigned their operating system to ensure it delivered valuable capabilities now - and it the future. These revolutionary capabilities span security, reliability and innovation.
State-of-the-art security is delivered via Encrypted Traffic Analytics (ETA) on the Cisco Catalyst 9000 Series switches. Unique to enterprise switches, ETA makes the Cat9K the industry's only switch performing malware detection through behavioral and pattern-based analytics on encrypted traffic. This approach detects threats before they invade the network and can more quickly isolate offenders. ETA exemplifies the opportunity presented by learning machines and solves network security challenge previously thought to be unsolvable!
Cisco's open, extensible and programmable IOS XE 16.6.1 provides Software Maintenance Updates, standards-based model driven telemetry, and third party Application hosting. This intuitive network automates routine, low value activity, which consumes resources and allows network managers to refocus on higher value network creativity and design. This improves network reliability as well as reduces operational costs.
Other software features delivered by IOS XE 16.6.1 include:
Model-Driven Telemetry: The Cat9K series of switches are the first Campus Switching products to support standards-based telemetry. This feature allows the switch to continuously stream real time configuration and operating state information represented in YANG data models to subscribers, which makes it efficient to monitor customer networks.
Trustworthy Systems: The Cat9K series of switches is the industry's first to incorporate security innovations on the switch. This is an additional layer of security that IOS-XE provides to prevent malicious actors from compromising our customer's systems. This results in end-to-end security for our customers.
Increased Serviceability and High Availability capabilities: Boot-times on All Catalyst 9000 Series switches is reduced to 160 seconds on standalone systems, and 200 seconds on 8-member Cat 9300 stack. Feature like Graceful insertion and removal (GIR), NSF/SSO Support for IPv6 minimizes network downtime for our customers.
MPLS Innovations: 6PE, 6VPE, Ethernet over MPLS, VPLS, and EiBGP Multipath. By expanding advanced MPLS capabilities on most widely deployed switching platforms, we have focused making customer deployments more flexible and reliable.
IOS XE 16.6.1 is a groundbreaking operating system that brings the power of intent-based networking to our revolutionary Catalyst 9000 product line. Cisco Enterprise Networking is again raising the bar for software innovations! It's time to make the Switch!
Learn more at
https://www.cisco.com/c/en/us/products/ios-nx-os-software/ios-xe/index.html
For downloading software image and documentation, please visit
1 Comment
You must be a registered user to add a comment. If you've already registered, sign in. Otherwise, register and sign in.