Options
Mark as New

Mark as Read

Bookmark

Subscribe
The home grown Application-Specific Integrated Circuit ( ASIC ) of Cisco , Unified Access Data Plane ( UADP ) ,has been fundamental in driving multiple Enterprise switching products . It's better hardware performance and increased software flexibility compared to previous generations, coupled with other unique innovations make it stand out among its competitors. It is hard not to agree that the success of industry leading products like Catalyst 3850 is due to this ASIC .In past whenever there was a new feature/technology ,we needed a new ASIC which required time and money .It was in 2013, with the introduction of Catalyst 3850/3650, that this ASIC realised its full potential . When Catalyst 3850 was introduced we provided Layer 2 and Layer 3 features .And MPLS was later added to it because we had the programmable pipeline support on the ASIC. Thereafter, the ASIC was used on Sup8E for Catalyst 4500 .In one of the greatest launches of all time in 2017 , Cisco introduced Intent Based Networking and the new hardware Catalyst 9k family which enabled Policy Based Segmentation in this portfolio of switches . At the heart of this launch was the UADP ASIC . The UADP family is growing with the increasing innovations and additional capabilities.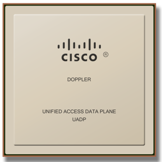 We have seen multiple variants of UADP such as UADP 1.0, 1.1 , 2.0 and now 3.0 . All the cool functionalities that we hear about that are supported or we wish were supported can only be made possible by these cool ASICs. Features like Encrypted Traffic Analytics , that detects threats in encrypted traffic without decryption is one such example . While these features are expected from the intelligent Core and Aggregate Switches in the networks, bringing that intelligence on Access Switches is a ground breaking step & is expected to chart a new territory for Cisco. Let us check out the following table to get a clearer understanding of these variants being used in Catalyst 9k family .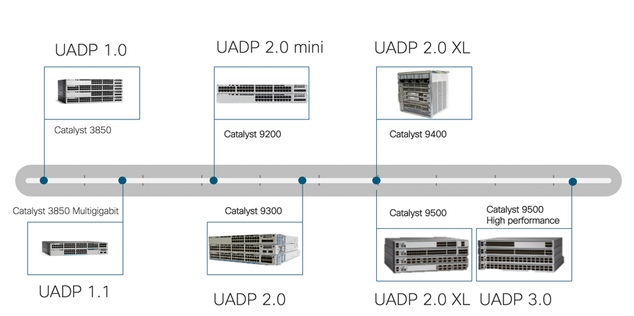 The latest introduction to Catalyst 9k family , Catalyst 9200 switch , that is expected to connect 25% of the ports worldwide is based on the newer UADP variant ,the UADP 2.0 mini , an optimised version of UADP 2.0 that runs the Open IOS XE software . It makes it future ready for fabric of tomorrow with Intent Based Networking everywhere by enabling VXLAN bridging, VXLAN routing , Group policy option , Generic protocol encapsulation , on this class of switches . It enables features like Streaming Telemetry , MACSEC-128 , Policy Based Segmentation , Programmability , higher stacking bandwidth and brings more scale as compared to its predecessors Catalyst 2960X/XR and other competitive products in this class .
The Catalyst 9200 is here to connect the unconnected and at the heart of this switch is our "precious" UADP .
For more details on The new Catalyst 9200 , please refer to www.cisco.com/go/cat9200
You must be a registered user to add a comment. If you've already registered, sign in. Otherwise, register and sign in.