Cisco Employee
Mark as New

Mark as Read

Bookmark

Subscribe

Email to a Friend
Gartner's latest Magic Quadrant for WAN Optimization recognized Cisco as a leader, again. More details about Cisco positioning are highlighted in Prashanth Shenoy's blog post. This follow up post shares an overview of Cisco considerations for our WAN Opt (Cisco WAAS) vision and strategy.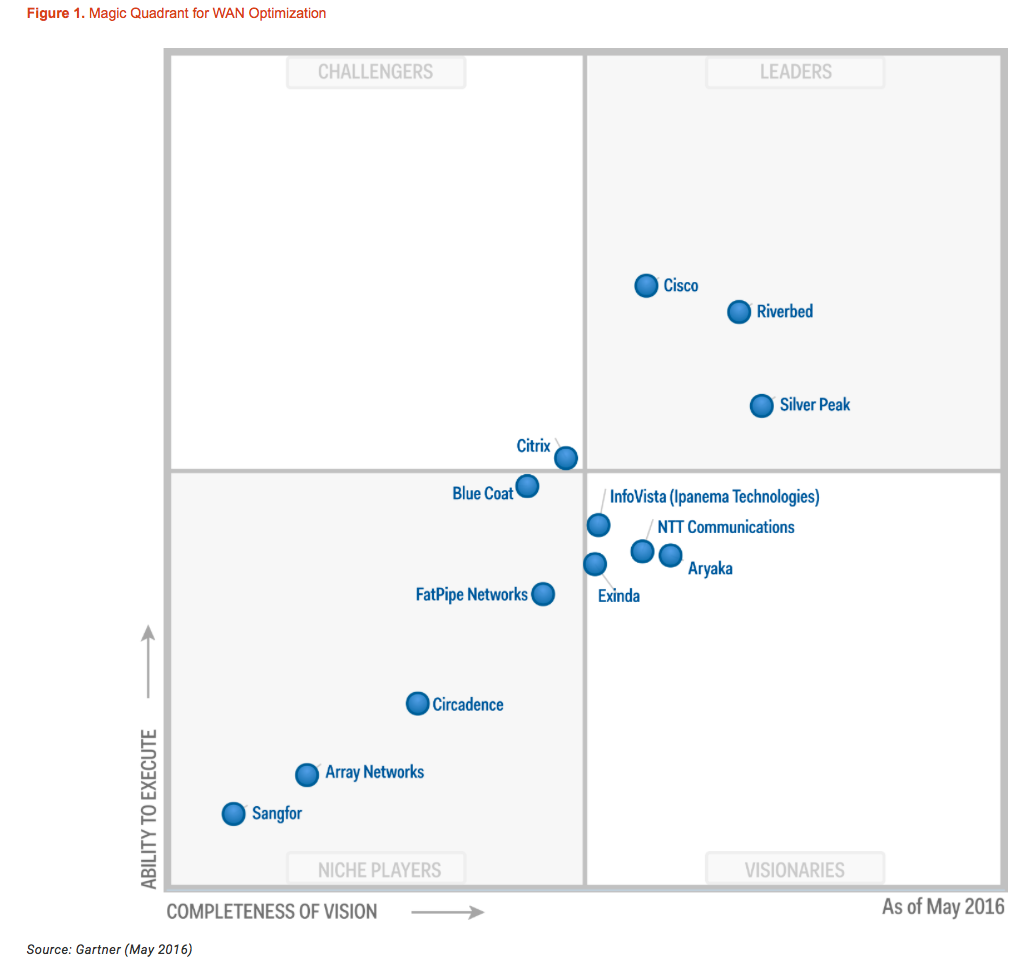 (Source: Gartner, Magic Quadrant for WAN Optimization, May 2016. G00276843)
This graphic was published by Gartner, Inc. as part of a larger research document and should be evaluated in the context of the entire document. The Gartner document is available upon request from Cisco.
Innovation is more than just about speed, feed, and the latest shiny box. A true technology leader evaluates current and future needs of the market, its customers', then builds value-added innovations to help get customers towards that future. That, essentially, is our guiding principle. So what does Cisco see?
Market Needs
Cisco continues to see convergence of network services into a single platform that provides operational and capital cost savings as well as license flexibility for the customers. The exponential growth of mobile devices, high bandwidth apps, and cloud-based services adoption demands new WAN paradigm, for example, hybrid WAN. Internet as an alternative to offload the WAN gives rise to new application assurance challenge and security vulnerability traditionally not encountered with the DC backhauled model. Early adopters increasingly embrace virtualization, e.g. Network Functions Virtualization (NFV) with WAN opt as one of many virtual network functions (VNF), to lower operation costs and have greater deployment flexibility.
What Do These Mean?
Customers are looking for more than just a narrowly focused solution, but a comprehensive and integrated WAN Optimization that helps them address a) digital business needs, b) operational complexity, and c) costs optimization across the WAN fabric.
A. Digital business needs. A one-second delay in web page response time could result up to 16% decrease in customer satisfaction1. The non-existence of an app, say on a mobile device or at a remote unwired location, boils down to missed revenue opportunity. The key to delivering great experience for digital customer is the ability to deploy application performance anywhere, anytime, through any connectivity, on any platform, i.e. physical or virtual. This means application optimization at the branch and WAN opt in the WAN or cloud (anywhere), instantiated on-demand (anytime), delivered via MPLS, Internet or 3/4G LTE (any connectivity), as dedicated hardware, virtual instance, or virtual network function (any platform).
B. Operational complexity. Agility is the desired state so IT can quickly respond to changing digital business needs. Therefore, the automation of network and branch services, like WAN opt, is central. Cisco WAAS is part of Cisco Intelligent WAN (IWAN), our solution for software defined WAN (SD-WAN). Cisco IWAN provisioning can be done in a few GUI friendly clicks using the IWAN App on APIC-EM, an SDN controller (see video below). Cisco WAAS also is a VNF supported by Cisco Enterprise NFV solution, manageable by the Enterprise Services Automation (ESA) app on APIC-EM.
Agility comes hand-in-hand with deployment flexibility as well. Customers should have the freedom to choose any platform for deployment:
Inline as a dedicated hardware in cases where Layer 3 topology must be preserved;

As virtual instances either in a container on a router (ISR-WAAS) or a router-integrated compute blade (vWAAS on the UCS-E), where branch infrastructure convergence is the goal;

As virtual network function in an NFV solution for greater deployment flexibility; or

As cloud service from managed services.
C. Costs optimization
Cost is always the elephant in the room when discussing IT initiatives. There is no better time than now to address that. By 2019, 59% of total cloud workloads will be Software-as-a- Service (SaaS) workloads, up from 41% in 20142. Connectivity between users and their apps will become more dynamic. HTTPs traffic optimization, live streaming of video with adaptive bitrate protocols (HLS, HDS, HSS), and a variety of media formats such as Adobe, Apple, and Microsoft are a few examples of the new application assurance challenge. This translates to the need for web optimization feature and also an asymmetric solution, one that does not require a WAN opt device or service at either head end or each cloud provider – a 50% cost savings just by cutting the number of WAN opt devices or services in half. Cisco introduced this capability and enhanced features for Microsoft updates and single-sided SSL encrypt and decrypt handling in WAAS 6.2 Software Release (see NPI announcement). Apple iOS optimization on Cisco networks started with Cisco-Apple partnership, announced in August 2015.
WAAS total cost of ownership (TCO), one of Cisco key strengths highlighted by Gartner, is very attractive in comparison to other point-product or SD-WAN solution. WAAS virtual instances reduce both CapEx and maintenance contract costs. That is because Cisco WAAS is an integrated part of Cisco branch and WAN solutions.
Why Cisco Does What It Does
Cisco goal is very similar to customer goal, and that is to achieve item a, b and c above. Cisco DNA is the architecture for customer to get there. Cisco DNA solutions: Cisco Enterprise NFV, Intelligent WAN, StealthWatch Learning Network, Connected Mobile Experience are a few key enablers in delivering a secure, open, programmable fabric that ties together the branch, wan, campus and data center. This fabric securely connects SaaS/cloud-based applications and virtual services delivered to/from cloud and also acts as sensor of threat and enforcer of security policy. A unified network control plane together with one consistent management framework delivers the ultimate flexibility for the enterprise: any app, any platform, any connectivity. One common deployment and operation model across the WAN fabric, whether customer premises, partner's, or managed services, brings simplicity for IT and costs savings for the business.
Gartner does not endorse any vendor, product or service depicted in its research publications, and does not advise technology users to select only those vendors with the highest ratings or other designation. Gartner research publications consist of the opinions of Gartner's research organization and should not be construed as statements of fact. Gartner disclaims all warranties, expressed or implied, with respect to this research, including any warranties of merchantability or fitness for a particular purpose.
Citation:
1. Gomez, Why Web Performance Matters
2. Cisco Global Cloud Index: Forecast and Methodology, 2014–2019
You must be a registered user to add a comment. If you've already registered, sign in. Otherwise, register and sign in.