Cisco Employee
Mark as New

Mark as Read

Bookmark

Subscribe

Email to a Friend
Cisco is bringing intent-based networking to life. The industry leading Catalyst 9000 series of switches combined with the Software-Defined Access are changing networking forever.
Cisco's open, extensible and programmable IOS XE 16.6.1 supports Cisco Catalyst 9300, 9400, 9500, 3850 and 3650 Series Switches. Anoop Vetteth's blog explains how Cisco simplified the software licensing strategy for all Catalyst 9000 Series Switches to continue their network transformation leadership via software-defined networking (SDN) architecture.
As Cisco's customers and partners familiarize themselves with the new hardware and software innovations, a few recurring questions arise:
How do I know which feature belongs to which software license?
How do I compare the software features amongst all these platforms?
What's new in a given software release?
The answers lie in an existing web-based application called Cisco Feature Navigator (CFN). CFN enables users to match Cisco software releases to features and to Cisco hardware. CFN is available to any registered Cisco Connection Online (CCO) user and can be found at http://www.cisco.com/go/cfn. CFN is an often-overlooked tool but its valuable insights help Cisco partners research software releases, and save time for network administrators at customer sites.
A few of the things the tool can do include:
Research software based on feature names or technology

Research software based on software, platform or software image

Compare two software releases

View end-of-life for software images
As an example, let's use CFN to compare the Cisco Catalyst 9300 with Network Advantage License and Cisco Catalyst 3850 with IP Services License for IOS XE 16.6.1 Software Release.
Use http://www.cisco.com/go/cfn to log into CFN.
Choose the "Compare Images" option

Input the First Image Parameters, which in this case are Cisco IOS 16.6.1, Catalyst 9300 and Network Advantage License

Input the Second Image Parameters, which in this case are Cisco IOS 16.6.1, Catalyst 3850 and IP Services License

The results appear at the bottom of the screen, which identify the features unique to each image and the features that are common to both images and platforms. Results can be exported to an Excel file for further analysis.
The figure below shows the steps in a visual snapshot.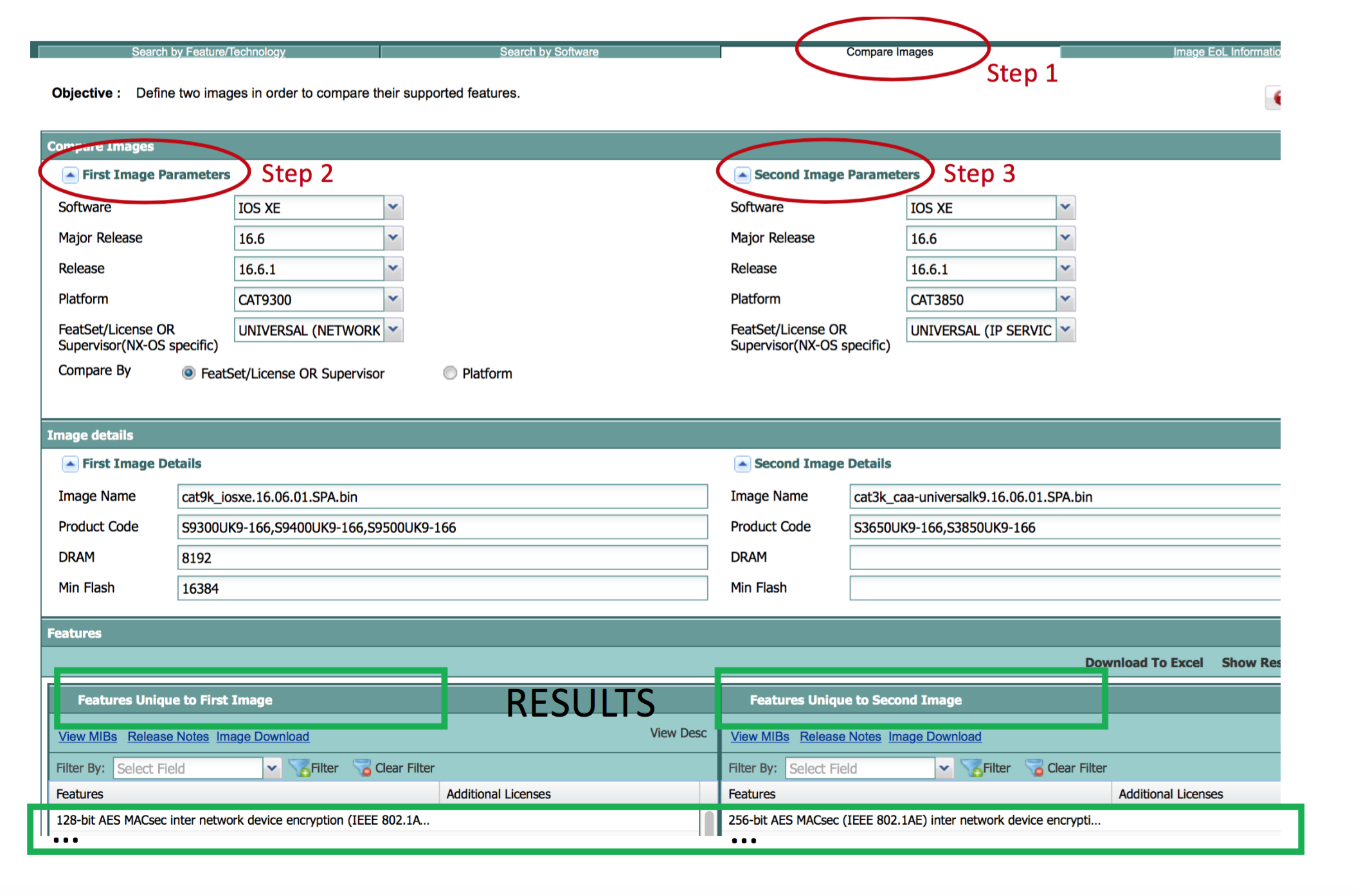 Not only is Cisco committed to be the market leader in the networking industry but we are also dedicated to exceptional customer satisfaction. CFN is another example of how Cisco is making network management easier – and more successful - for Cisco customers.
It's time to make the Switch!
You must be a registered user to add a comment. If you've already registered, sign in. Otherwise, register and sign in.