Highlighted

Beginner
Mark as New

Bookmark

Subscribe

Mute

Email to a Friend
Design questions: Layer 3 addressing, etc..
I am currently trying to design an infrastructure for a client. Bear in mind that this is my first design, and that I am learning a lot as I go (Working on CCNP R&S - I just passed Switch last monday).
After suggestions from a more experienced network engineer, I have opted for a full Layer 3 design - all the way to the access layer switches (client has the budget, and will eventually move to VoIP and interactive video, so I prefered L3 over L2 design for convergence/failover etc..).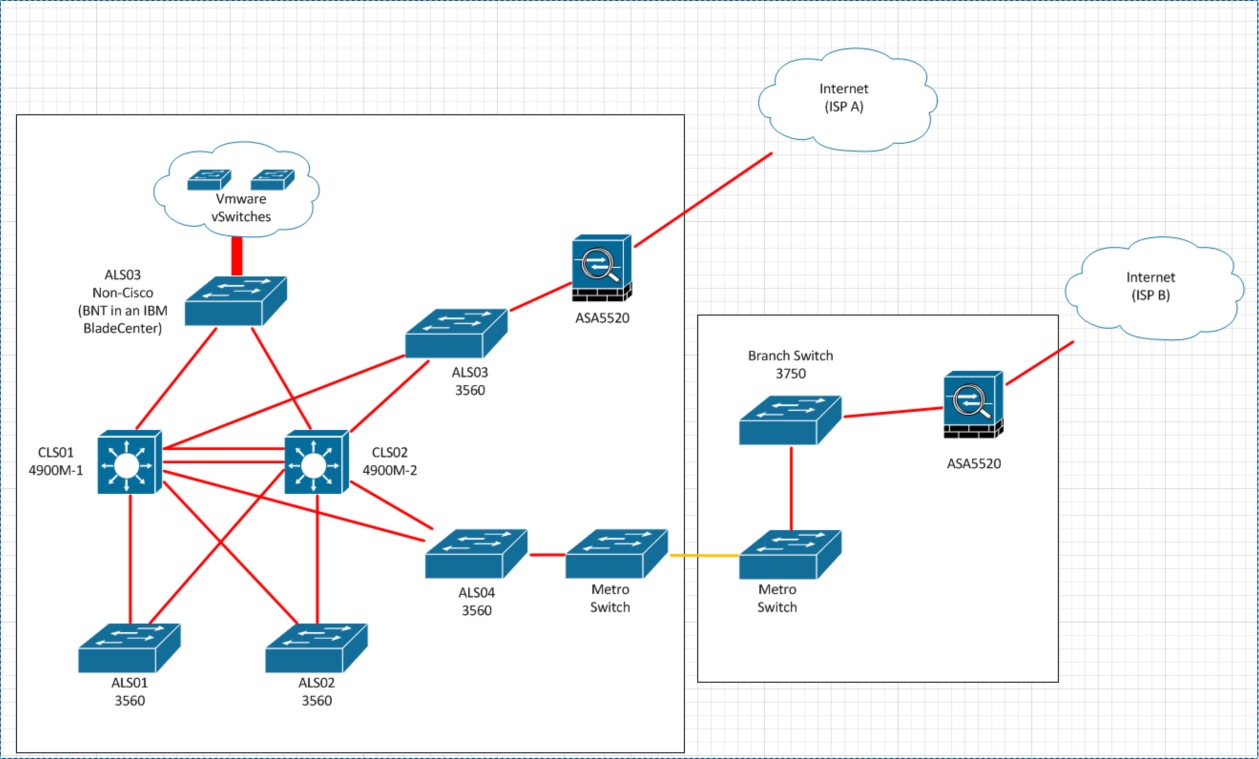 The client has 2 sites, linked together with a LAN extension. The whole network is Cisco equipment, EXCEPT one, a BNT L3 switch in an IBM BladeCenter. This is a completely new infrastructure, will be built in parallel to the actual network.
The BNT made me reconsider my plan to use EIGRP for the design, since it's not supported by non Cisco equipment. However, I could use static routes between the BNT and the 4900M and keep the EIGRP topology. There should be one or two VLANs max on the blade center (production servers), so I wouldn't have too many routes to manage. My initial thought was to do a /30 subnet between each L3 switch in a point to point configuration.
I used ALS03 and ALS04 because the 4900M only has 10GigE ports, and I wanted to provide redundancy for those links. Also, ALS03 will have VLANs for the DMZ. ALS04 has the WAN links, network appliances, etc...
My questions:
1. Is the EIGRP/static routes solution a good one? or OSPF network wide would be better?
2. Is the point-to-point addressing plan a good way of doing it? or a large broadcast subnet including all the router interfaces would be better?
3. I need the internet access to go through the local route for both sites, with failover to the alternate site. How would I implement that? (2nd site on the diagram is the disaster recovery site).
Please share your thoughts on my design, your input and suggestions are more than welcome! I am confident I can deliver a working solution but doing this on my own is kind of overwhelming!
Thanks,
Marc