Highlighted
Beginner
Mark as New

Bookmark

Subscribe

Mute

Email to a Friend
DHCP pools to seperate VLANS
Greetings! so this is a very loaded question in my mind but a pretty straight forward aim: I am trying to setup a DHCP pool PER VLAN
I have the following topology: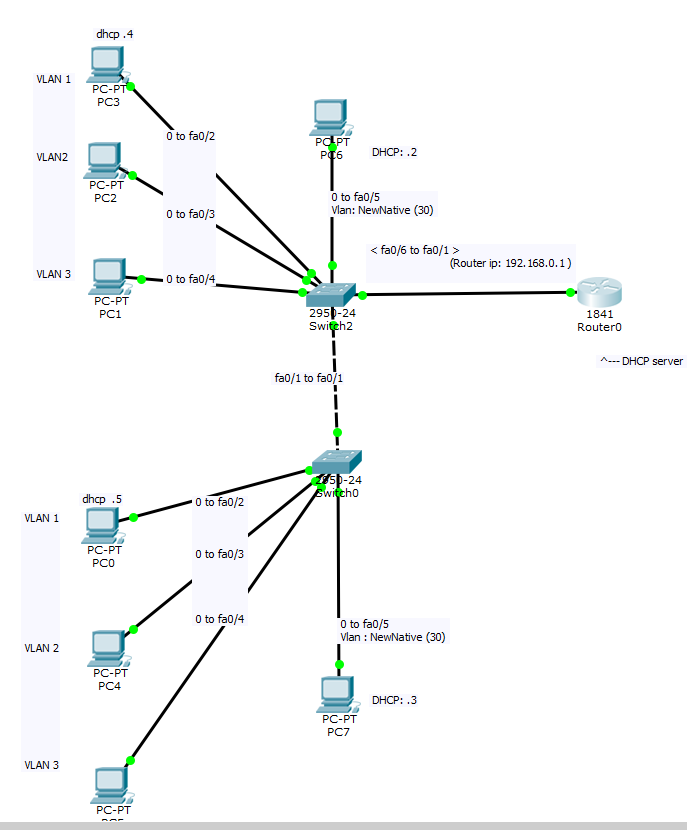 So I have two switches that have a trunk connection (and from Switch2 to Router0, I have a trunk connection as well). And all vlans are allowed over on both.
I was a little confused at the difference between a native and the default vlan1 when I set it up, so my vlan 1 has PC3 and PC0 on it but also, out of consequence, PC6 and PC7. I wanted to treat these as normal-"public"-default clients who interact on the open broadcast domain with no special demarcation.
I created a DHCP pool on router1, called 'NewNative' and it has been successfully giving out IP addresses to PC6, PC3, PC0 and PC7. I don't really want it giving ip addresses to VLAN1 (PC3 and PC0).
I suppose that their is no way to move all my interfaces lodged in vlan1 over to VLAN 30 ( the Native VLAN, that I manually set between switch0 and switch2) and just let that be the new default.
It doesn't matter that much.. Just not sure how to mimic good practice.
My main problem is that I'm struggling with subinterfaces. I created subinterfaces on router0 ( ex. 'fa0/1.2' was set for vlan 2. I gave it an ip address of 192.168.2.1 )
How do I set up a new DHCP pool within router0, and get PC2 to DORA successfully?
Like what am I missing? So that when I click 'dynamic' on PC2, it will send a broadcast that will travel to switch2, and end up on interface fa0/1.2 to the router, so that the router knows which DHCP pool to give out from?
In fact, what would I have to say to the router to make my "VLAN2DHCP-pool", interface specific even?
1 ACCEPTED SOLUTION
Highlighted

VIP Expert
Mark as New

Bookmark

Subscribe

Mute

Email to a Friend
Hello,
I have made a few changes to your project, revised file is attached. Basically, if you change the native Vlan, this needs to be reflected on the subinterface of the router, by adding the keyword 'native'. I have created a subinterface .30 on the router.
For the sake of simplicity, I have also created DHCP pools on the router for all 4 Vlans. And last but not least, the trunk between the switch and the router needs to have Vlan 30 set as native as well...