Participant
Mark as New

Bookmark

Subscribe

Mute

Email to a Friend
Hi
Can anyone help me to clear my doubts?
Refer the below figure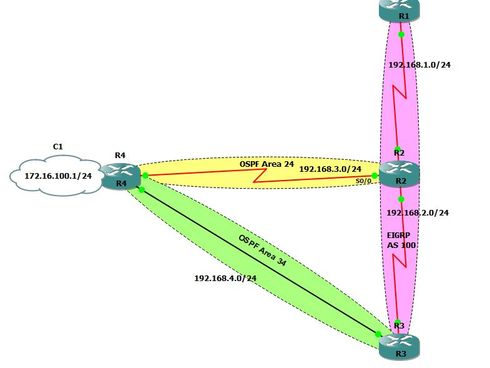 Network 172.16.100.1 is there in OSPF area 0, R2 learned this route as OIA (inter-area route) route and installed in the RIB.
I have configured mutual redistribution in R2 between OSPF and EIGRP.
so EIGRP installed that route in its topology table as an external route, now I changed AD of external EIGRP route to 105 which is lower than all types of OSPF routes.
as per my sense now router should install that redistributed EIGRP route in RIB (because of lower AD). once the OSPF route removed from RIB, router should not redistribute that route to EIGRP, then EIGRP removes that route from the topology table and RIB, then back OSPF route will be installed in RIB, so like this route flap should happen in this condition.
but in my lab test, route was not flapping, OSPF route was installed all the time.
you can refer outputs below,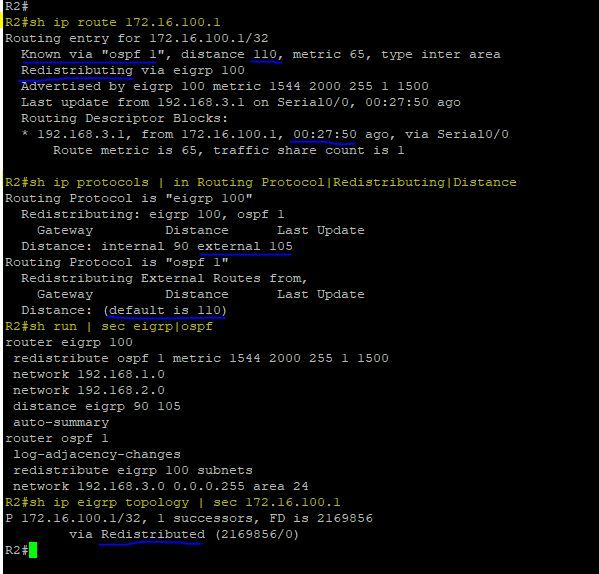 Thanks
Siva
1 ACCEPTED SOLUTION

Participant
Mark as New

Bookmark

Subscribe

Mute

Email to a Friend
Hi!
The Router on which you perform the redistribution and changed the AD for EIGRP External Routes is the same one right?
If you look at the Router which is performing the Redistribution itself:
It shouln't affect the Routing Table on this Router itself.
It will only announce the redistributed Routes as external routes in the given routing protocol.
So if you perform the change you made - changing AD for EIGRP External Routes:
This will only affect external Routes which are learnt over EIGRP.
Not routes the Router redistributed himself.
That explains the behavior you are seeing.
The router will stick with the routes he has learned via OSPF, because he is redistributing them himself.
Hope that helps.
Let me know what you think.
Best regards
Julian