Highlighted
Beginner
Mark as New

Bookmark

Subscribe

Mute

Email to a Friend
Intermittant PIM transport
I'm having issues with a basic PIM setup in my predeployment prod environment. In my lab everything worked fine.
Setup is a hub/spoke wan with multicast endpoints at each spoke. Wan is 100 Mb tagged ethernet links. Lab has a C3825 at the hub (also acts as central spoke) with 1841s at each spoke. All routers have ADV IP Services images. Multicast enters the hub and propagates to each spoke with a basic PIM-Sparse-Dense setup
Production is new C1111 ISRs. When I attach our existing multicast network to the central router, I can see the groups from the central router on a spoke router, but the data that should be within those groups is heavily intermittent. Configs are attached. Routers are running APP services, and currently I'm running PIM-Sparse, but it hasn't been any more reliable than Dense.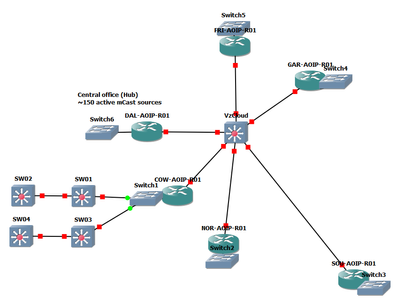 Anything I have missed or need to check?
Highlighted

VIP Expert
Mark as New

Bookmark

Subscribe

Mute

Email to a Friend
Hello,
do you really need IGMPv3 ? If not, try to remove that (and let the routers use the default IGMPv2).
In any case, on the hub router, get rid of the line:
ip default-gateway 192.168.0.26
Highlighted
Beginner
Mark as New

Bookmark

Subscribe

Mute

Email to a Friend
No difference. The IGMPv3 lines were left over from when I tried to use SSM. This issue impacted our Prod network, so it's back down in Dev.
Highlighted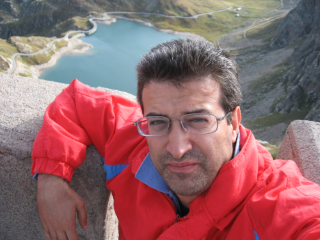 Hall of Fame Master
Mark as New

Bookmark

Subscribe

Mute

Email to a Friend
Hello @Coradat ,
on the remote device you don't need the igmp snooping querier for vlan 14 as you have configured ip pim dense mode
so the following lines should be removed
ip igmp snooping querier max-response-time 25

ip igmp snooping querier timer expiry 205

ip igmp snooping vlan 14 immediate-leave

in addition how much bandwidth there is in production network remote sites ?
Are you sure you are not using too much for multicast even with few streams ?
In the lab all the links are GE or FE
Hope to help
Giuseppe