Multiple EIGRP autonomous systems on the same device and Poisoned Routes
Options
Mark as New

Bookmark

Subscribe

Mute
‎11-10-2015 12:11 PM - edited ‎03-05-2019 02:42 AM
Hello All, I can't believe, I'm not finding anything on the subject of running multiple EIGRP autonomous systems on the same set of routers. I'm hoping my Google skills are down. :)
Here's what we are trying to accomplish and the problem we are running into. Today we have two data Centers connected together over a 1Gb P2P link. We have remote sites connected to both Data Centers in a Dual Hub DMVPN configuration. The whole network is running in EIGRP AS 1 today. The goal is to break up the DCs into their own EIGRP autonomous system, and then deploy BGP between the DCs. So at the remote sites, they would be configured with both ASes. Tunnel interfaces going to DC1 would be in AS 1, and tunnels going to DC2 would be in AS2. The plan was to roll out the configuration with as little downtime as possible.
We are using Nexus 7k's as our core. That connects to a pair of ASR's that connect to the P2P link and terminates the DMVPN tunnels. N7Ks also connects to downstream 4500's as our access layer.
So at DC2 we decided to overlay (or run in parallel) EIGRP AS 2 with AS 1. In the hopes that both AS topologies would be close to the same in DC2. Then use BGP to redistribute AS1 @ DC1, and AS2 @ DC2. That way when we light up BGP over the P2P Link, the EIGRP AS1 routes would lose to BGP @ DC2. Then we would start removing AS 1 off all the devices at DC2.
With all the information I can find, I don't see a problem with that deployment. But we are running into a problem where the IOS devices (being the ASRs, and 4500's) are route poisoning the routes in AS2. AS1 is fine. The NX-OS devices are NOT doing this, where both AS1 and AS2 look fine for all routes in both topologies. But the advertised routes from the N7K for AS2 are being poisoned at the ASR's and 4500's (and of course not being advertised).
Here is an example of the problem: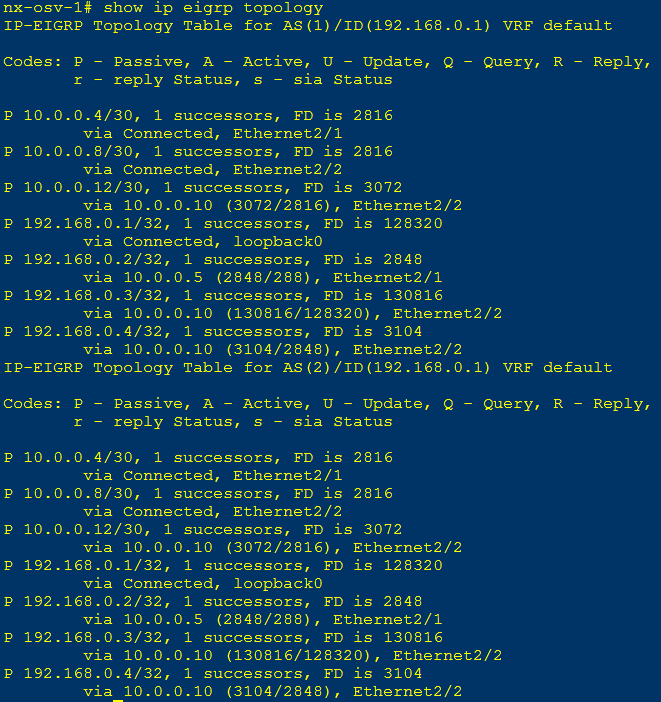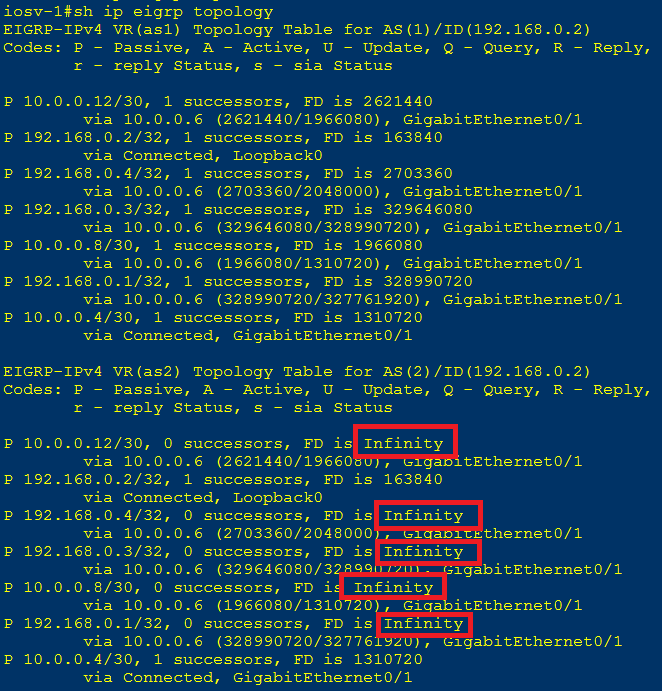 Does anyone know why this is happening? Can someone point me to the documentation that describes this behavior?
Thanks for your time and help,
Nick