Highlighted
Beginner
Mark as New

Bookmark

Subscribe

Mute

Email to a Friend
Hello,
I am testing the NCS 540 for changed all ME-3800.
I try to configure BVI as the documentation but it seems doesn't work properly.
PC-A in vlan 6 >>>---------<2960-vlan6 >--------------<NCS 540 - sub interface + BVI configured >------MPLS Network <PC-B>
My configurationin NCS 540 :
interface GigabitEthernet0/0/0/20.6 l2transport
encapsulation dot1q 6 exact
!
interface BVI6
vrf vrf_nm
ipv4 address 10.159.15.254 255.255.255.0
!
l2vpn
bridge group 6
bridge-domain 6
interface GigabitEthernet0/0/0/20.6
!
routed interface BVI6
My problèm:
I can see arp table in NCS 540
Ping between PC-A ----> vlan 6 2960 is OK
Ping between PC-A ----> BVI6 Is not Ok
Ping PC-B ------> BVI6 is oK
Ping vlan6-2960 ------> BVI-6 NCS 540 is not Ok
But on PC-A, I can see ping from NCS540 !! but my PC don't resolve ip via ARP requestre
It seems a big problem in NCS 540 with broscast ARP.
When I configure static arp in 2960 : ping is ok
sw-site-test(config)#arp 10.159.15.254 d46a.357a.60da arpa
sw-site-test(config)#exit
sw-site-test#
sw-site-test#p
Dec 26 11:09:49: %SYS-5-CONFIG_I: Configured from console by admin on consoleing 10.159.15.69
Type escape sequence to abort.
Sending 5, 100-byte ICMP Echos to 10.159.15.69, timeout is 2 seconds:
!!!!!
Success rate is 100 percent (5/5), round-trip min/avg/max = 1/4/14 ms
sw-site-test#
Highlighted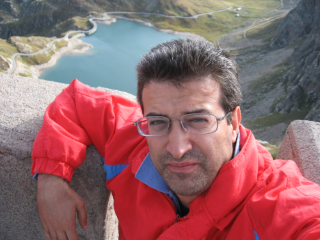 Hall of Fame Master
Mark as New

Bookmark

Subscribe

Mute

Email to a Friend
Hello @a.auvinet ,
your router is running IOS XR, the configuration is hierarchical, the router may default to use EVPN.
see EVPN IRB chapter in NCS 540 in following configuration guide
https://www.cisco.com/c/en/us/td/docs/iosxr/ncs5xx/l2vpn/70x/b-l2vpn-cg-70x-ncs540.pdf
Your configuration should work for a VPLS with BUM automatically flooded (Broadcast, Unknown unicast, Multicast Traffic ) carried to all other PE nodes over p2p pseudowires with Martini encapsulation.
see pag 207 Configuration of EVPN IRB
BUM is not automatically flooded in EVPN as it was in VPLS of any form this explains what you see and why you need

a static ARP entry to be able to ping the BVI.
please note that EVPN requires the use of MP iBGP follow all the configurations templates.
Hope to help
Giuseppe