Highlighted

Beginner
Mark as New

Bookmark

Subscribe

Mute

Email to a Friend
I recently came across this question while studying for the ENCOR exam:
Which of the following attributes does the EIGRP topology table contain? (Choose all that apply.)
a. destination network prefix
b. hop count
c. total path delay
d. maximum path bandwidth
e. list of EIGRP neighbors
Answer: A, B, C, E
I was confused why answers B and C were correct. I do not see anything in the EIGRP topology table below that shows the hop count or delay. Is this just a bad question, or am I missing something? I appreciate any input you have.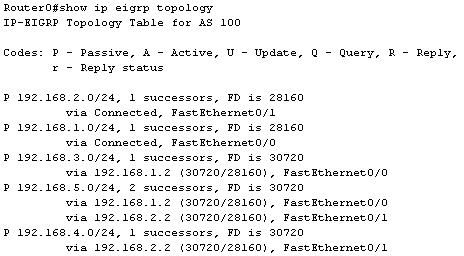 2 ACCEPTED SOLUTIONS
Highlighted

VIP Expert
Mark as New

Bookmark

Subscribe

Mute

Email to a Friend
Hello,
the question probably refers to the output you get when you specify a network, e.g.:

R3#sh ip eigrp topology 192.168.1.0/30
EIGRP-IPv4 Topology Entry for AS(1)/ID(192.168.1.6) for 192.168.1.0/30
State is Passive, Query origin flag is 1, 1 Successor(s), FD is 3072
Descriptor Blocks:
192.168.1.5 (GigabitEthernet0/1), from 192.168.1.5, Send flag is 0x0
Composite metric is (3072/2816), route is Internal
Vector metric:
Minimum bandwidth is 1000000 Kbit
Total delay is 20 microseconds
Reliability is 255/255
Load is 1/255
Minimum MTU is 1500
Hop count is 1
Originating router is 192.168.1.2
Highlighted

Engager
Mark as New

Bookmark

Subscribe

Mute

Email to a Friend

it does look like bad question; if this is from a book, try to see if they have book errata for that edition.
note that from detail view of EIGRP prefix and length, like with show ip eigrp topology 10.10.10.1/32, you will get more info including:
Minimum bandwidth, Total delay , Reliability, Load, Minimum MTU is 1514, Hop count is #, Originating router#
Regards, ML
**Please Rate All Helpful Responses **