How to have Symmetric Traffic/SDN-WAN(Internet Edge Layer Router)
Options
Mark as New

Bookmark

Subscribe

Mute
‎07-31-2021 10:45 PM - edited ‎08-04-2021 07:04 AM
Hi,
Is there any good solution with SD-WAN on Internet Edge Routers for controlling the outgoing traffic to the service providers from the customer side? (except using PBR solution)
And how does it exactly work ?
We want each buildings send/receive traffic to go through a specific ISP, while all providers can act as backup for others.
For controlling the incoming traffic, its easy.
Just advertising the specific/24 of the building + the complete /22 address, to each provider.
How about the outgoing traffic?
As we want it symmetric, so each building will send their own traffic from their specific service provider, that we have set the receive traffic to come from that direction(with BGP subnet advertisements).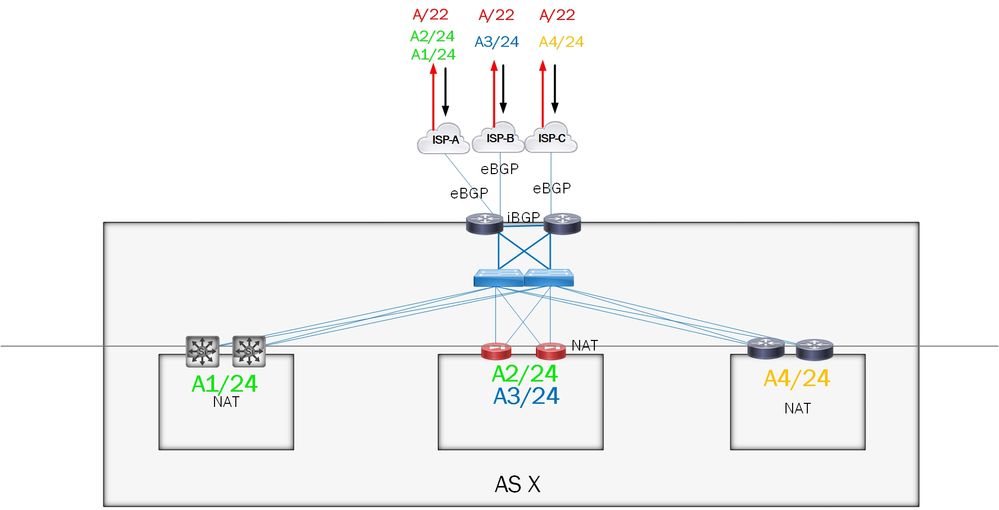 Thanks
Options
Mark as New

Bookmark

Subscribe

Mute
‎08-01-2021 01:46 PM
Hi,
just several question to understand scenario. As I get, you have 3 building with each 2 router and you have 2 separate internet routes with peering 3 ISP, right? Are all routers