Options
Mark as New

Mark as Read

Bookmark

Subscribe

Email to a Friend
Some of you may have watched the session at Cisco's first all-digital Cisco Live and I hope you found it helpful. This is the first in a series of companion blogs that will later cover in more detail the topics discussed in the session today. We all know that sometimes finding the right people, tools, and resources to help you is the hardest part of a project. Think of this as your high-level guide for the key architectural decisions you should be considering and, most importantly, where to quickly find the resources you need.
First of all, please visit the Cisco Live On-Demand Library to download the slides from our session (DLBTEC-59). Also, please look at these related sessions in the digital media library.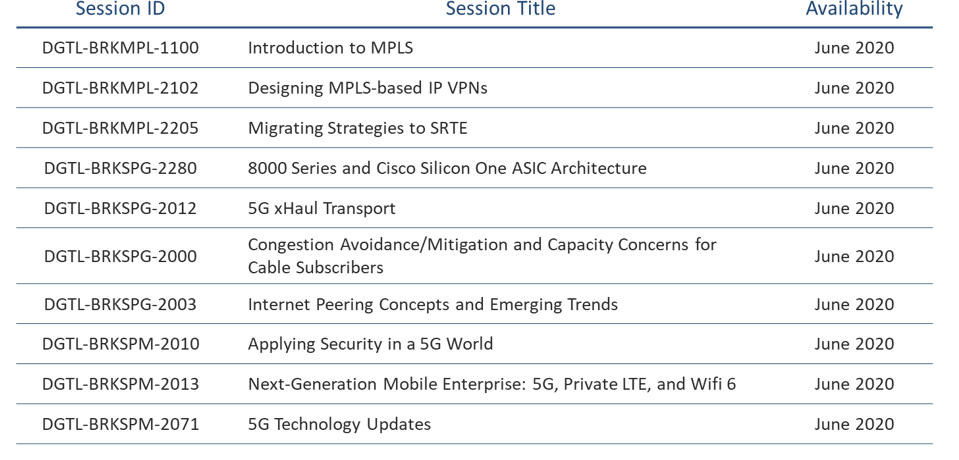 This inaugural blog will primarily reinforce a few key "architectural decisions" that you need to consider and will be followed on by more in depth topics on things like Segment Routing, EVPN, Telemetry and Analytics, and many more that are available in our on-demand library.
Over the next few months, I will bring in several guest bloggers to go in depth about how we are thinking about "the network of the future" and how it can enable your digitization strategy.
New Era in Network Architectures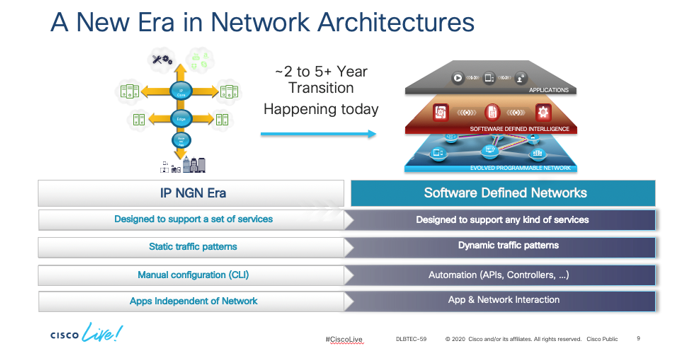 We are clearly in a new era of network and operational architectures. Some (like myself J) may have "lived" the TDM Architecture Transition to Consolidated MPLS and VPN backbones that occurred 15-20 years ago. That transition took about 5-10 years for many Cisco customers. It required changes in network and operational architectures, as protocols like MPLS came to the scene in a big way. Also, the topology choices like multi-planar became much more important for mission critical and HA networks to deliver carrier class resiliency in both SP and large enterprises as well. (We are currently re-vamping our Unified HA Network Design Presentation that we did at Cisco live a few years back on the topic of HA for 99.999+ uptime). The outcome was generally OPEX reduction & network consolidation because it allowed providers to simplify complex routing that was unavailable with IP only networks. We went through a "mini-transformation" in the MPLS world with unified MPLS and BGP-LU (BGP Labelled Unicast) in the last decade to accommodate scalability and multi-domain architectures, resulting from MPLS expanding from a purely core technology to access domains. While many of these networks run "fine," the problem is that many operations were still manual, prone to errors, complex with many protocols, and traffic patterns were very difficult to adjust to dynamically.
So, where are we today?
We are now at a point in what I call the 3rd wave – which is really exciting and is the path to a fully enabled SDN ready network. While many companies are well on their way in "wave 3", many others are not. It is probably at least a 2-5-year journey depending each company's needs and maturity level. In the SDN enabled network, networks are not only converged, but also have the capabilities to be Programmed, Virtualized, and Heavily Automated. To keep it simple, these are SDN-capable networks-- like we have in the data center with APIC and Campus with DNA, but now for the WAN. We have many customer deployments of technologies like segment routing already in production.
Business Demands This
So, from a business standpoint, I want to be clear here… When we talk to CTOs, the business demands both network and operational transformation for its own survival; thus, the network architectures need to follow –this translates roughly to Simplicity, Automation and Virtualization. This will lead to much better efficiency, cost savings, as these networks get deployed. We in Cisco Customer Experience have many offers and capabilities to help drive this journey.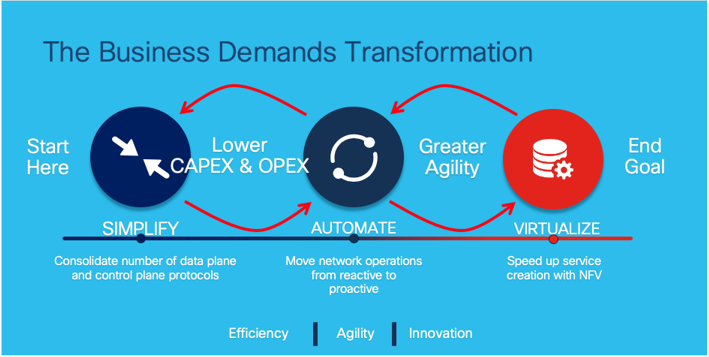 Simplicity Prevails: Quick Technology Overview
From a technical perspective, the simplest way to think about the network of the future is a convergence of HW and SW technologies. These networks are truly "hybrid" networks and will not only help reduce costs associated with provisioning and remove human error but will provide intelligence to optimize flows through the Crosswork Suite, Wan Automation Engine Platform and Automation through Network Service Orchestrator.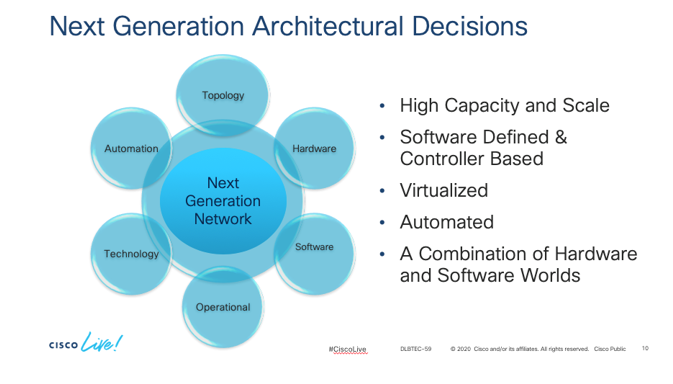 There are several key components like Segment Routing, PCE (Path Computation Element) and Telemetry that are so critical to the "centralized" brain of the network that will be addressed in future blogs, and we have digital sessions that will cover those in more detail. The key is that these new technology decisions have to been methodically as you build toward your own specific set of requirements.
Suffice it to say, there is a lot of cool and exciting things that are happening and available and ready
Operational Transformation: Hand in Hand with Network Architecture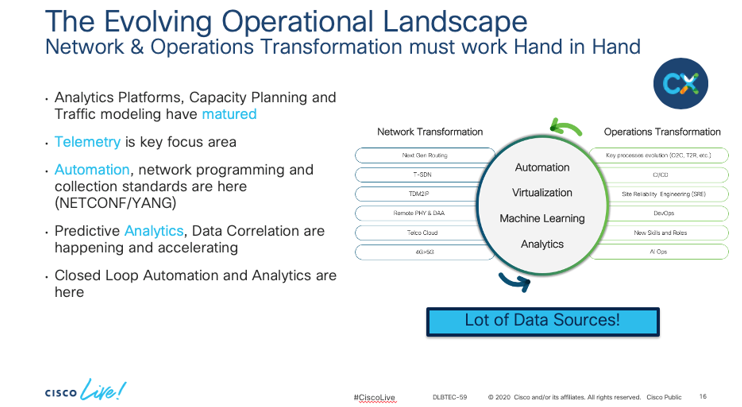 Now on the operational side we have a huge need to integrate both software elements as well as traditional HW elements into the OSS systems. Capacity modeling, planning and orchestration are in the forefront. Analytical skills such as predictive analytics are also vital to keeping these networks running and combining multiple data sources together into useful knowledge. There is an abundance of "network APIs" that will allow programmers to use Python, R, Golang with Model Driven Telemetry, for example, to pull key metrics from a router, rather than some archaic script with legacy parsing rules which tends to be a recipe for error. The cool thing is that with telemetry, we have access to literally a treasure-trove of KPI that are unavailable through SNMP or CLI.
So, where should you start?
We generally start by educating our customers with key technologies, like Segment Routing and EVPN, Model Driven Telemetry, which will help tremendously in control plane consolidation – and also remove a lot of the legacy issues around troubleshooting stuff like IGP/LDP synchronization, which have plagued operators for years.
There are other resources like Cisco Modeling Labs, Cisco dCloud, and the Wonderwall that are very good assets as well where you can start exploring and examining what is possible. For example, even if you don't have gear, you can start up a virtual topology in a "sandbox" to get smart on any given area that interests you.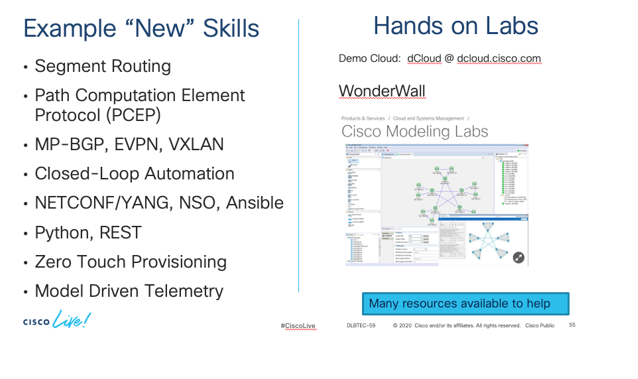 The Journey starts now.
In summary, I hope you have a better understanding of how I am thinking about the network of the future. I also hope there are enough useful nuggets to help not only your company, but also in your personal careers. Use the ones that make sense to you and your network, ignore those that don't apply.
Secondly, be sure to subscribe to this board and look for regular blog updates in the future as the Possibilities are endless and Transformational Journey Is Starting now.
For starters and more background please consult the following resources:
Segment Routing: http://www.segment-routing.net/
Telemetry, Programmability, XR: https://xrdocs.io/
dCloud: https://dcloud.cisco.com/
Cisco Modeling Labs: https://www.cisco.com/c/en/us/products/cloud-systems-management/modeling-labs/index.html
Cisco Live: https://www.ciscolive.com/global/featured-on-demand.html
You must be a registered user to add a comment. If you've already registered, sign in. Otherwise, register and sign in.