Mark as New

Bookmark

Subscribe

Mute

Email to a Friend
CAT 6500 DCI MPLS layer 2 over layer 3
Good Evening,
I'm trying to setup MPLS across two datacenters, to avoid extending direct Layer 2 to avoid STP loops, but i've ran into an issue if the vlan terminates IP wise on one of the devices as xconnect cannot be configured on an interface with IP address. I'm attaching a simple diagram of what i'm trying to accomplish maybe someone could help.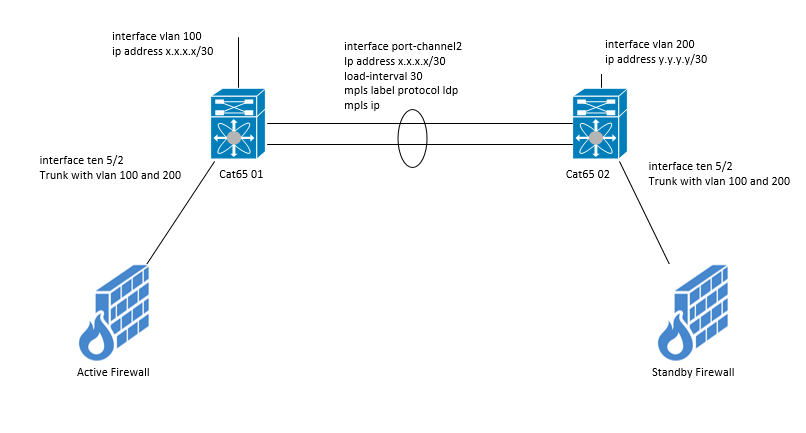 Basically as an example i'm placing two firewalls and Active one and Standby One which should have vlan 100 and vlan 200 tagged. Now vlan 100 is terminated directly on and Vlan 200 is terminated directly on Cat65 02. The target is to have vlan extension on both sites whilst having IP connectivity to both routers.
I'm running CAT65 SUP720 10GE MSFC3 IOS s72033-adventerprisek9-mz.151-2.SY13
Mark as New

Bookmark

Subscribe

Mute

Email to a Friend
Participant
Mark as New

Bookmark

Subscribe

Mute

Email to a Friend
Hello Etiennevella,
I would recomend a simpler way, you could have the dark fiber and configure a simple trunk with the VLANs that you would like to extend, though this way you have to see "who the STP root would be for each VLAN". Or if there is only one CAT6500 per site you could evaluate configuring as a VSS only if both sites shared the same VLANs and this would indeed simplify a lot this scenario. Now but if it is a most you can go with the EoMPLS which is simpler, below you can find a link about the EoMPLS:
https://www.netcraftsmen.com/working-with-eompls/
Please qualifiy all the helpful answers!
David Castro,