Beginner
Mark as New

Bookmark

Subscribe

Mute

Email to a Friend
Cisco 7604, 4 orange lights on Supervisor
Hi,
I was called into a company today to look at their Cisco 7604 router as it had stopped working. The supervisor has all it LED in orange state, there was no blinking of the lights at power on they went straight to orange. Please see photo. Tried removing all cards, having only supervisor card in, etc but always the orange lights.
What does this mean?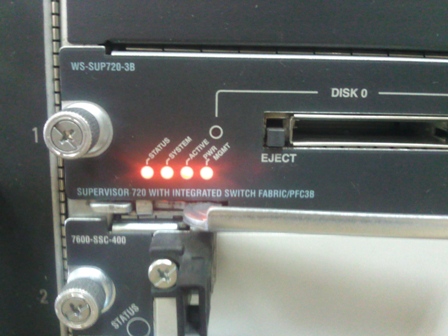 Cisco Employee
Mark as New

Bookmark

Subscribe

Mute

Email to a Friend
it means that it's having issues...
try to console to it and check logs and environemnt outputs. There is the chance you won't see any prompt. If this is the case try to reset it first, if still nothing remove it and re-seat it as well. Last chance try to plug it into slot 2 (which is reserved for redundant supervisor or for other module).
If still no luck I think you have to rma the card.
Riccardo

Cisco Employee
Mark as New

Bookmark

Subscribe

Mute

Email to a Friend
Hi,
STATUS LED orange - the module is booting or running diagnostics (normal initialization sequence).
SYSTEM LED orange - the module is powering up or a minor hardware fault has occurred.
PWR MGMT LED orange - the supervisor engine or RSP is powering up or has minor hardware problems.
If it is stuck in thsi state, then you have booting issues. E.g. the supervisor could be in ROMMON mode or it could be loosely seated and loing communication with backplane.
Connect via console and check the outputs. If it is in ROMMON, use reset for autoboot or boot command to manual boot.
Kind Regards,
Ivan Shirshin

**Please grade this post if you find it useful.
Kind Regards,
Ivan