Beginner
Mark as New

Bookmark

Subscribe

Mute

Email to a Friend
Datacenter Design with 2 Nexus 5K and 4 Nexus 2K
Hi all,
we are planning a Nexus datacenter project with this layout: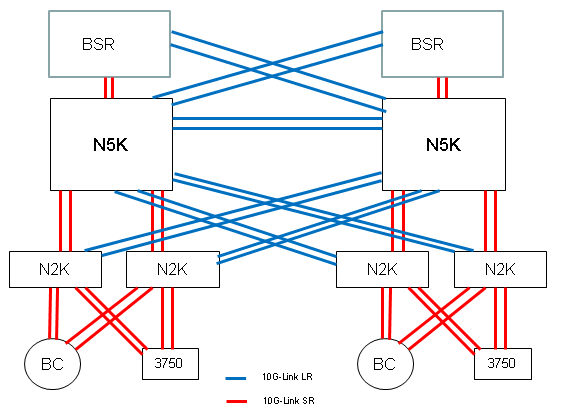 Our experiences with Nexus switches are not so large until now and the manuals are very extensive.
Both N5K´s should be connected directly with all 4 N2K switches. I did not find a layout like this in the manuals. Only a design,
where only 2 N2K are connected to one N5K, with this fex config:
Now I´m not sure if it is right to make a config like this with the same slots and fex´s or with different slots and fex´s.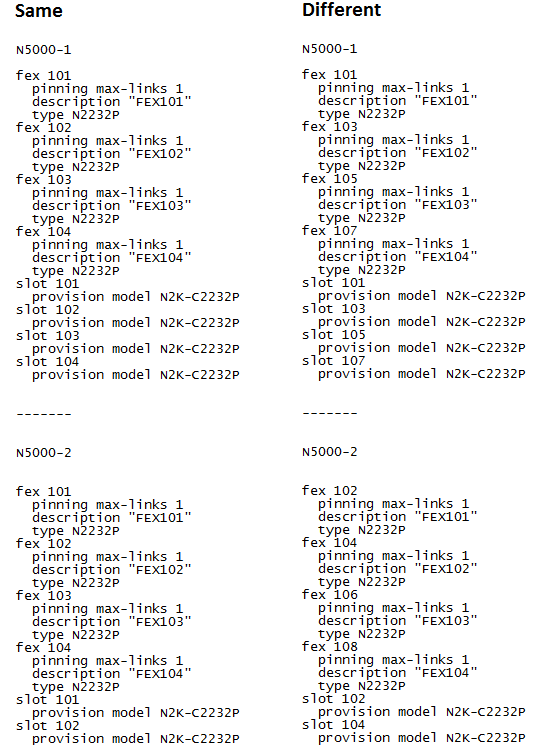 Could someone help me with the correct way to implement this please. Thanks in advance.
Cisco Employee
Mark as New

Bookmark

Subscribe

Mute

Email to a Friend
Hello Helko
There several important parts in your design:
1. switches 3750 cannot be connected to FEX
a. this is not supported design - ports on FEX are called HIF - means HOST INTERFACE PORT - used for conencting the hosts
b. by default ports on fex towards 3750 will be blocked by bpduguard
c. all traffic fomr FEX will be sent to n5k - and traffic from 3750 will drain port resources on N5K
2. I'm not sure what is BC so cannot give any comments on it.
3. according to the diagram looks like you're going to install n5k in big distance one from each other - please be aware that if you are going to connect each FEX to both N5K - all traffic from FEX will be loadbalanced between both N5K and if one nexus will be far away - this will introduce some undesired delay. Also FCoE adds distance limit for FEX to N5K connection - 300m
4. If each FEX will be connected to both N5K - configuration should be same on both N5K for each single fex.
And portchannel connecting N5K to FEX has to be a VPC port-channel
5. Routing is not supported between N5K and the device connected by VPC to N5K
HTH,
Alex