HALF Duplex and FULL Duplex Network Question
Options
Mark as New

Bookmark

Subscribe

Mute

Email to a Friend
‎06-21-2013 01:42 PM - edited ‎03-07-2019 02:01 PM
Hi there,
I have been called in on site of one client and what I saw amazed me and challenged me at the same time.
I would like to obtain professional opinion on the subject.
My first question is :
Is it possible to achieve no collisions and no packet drops in Half Duplex network if All ports and nodes on the network are set to half duplex ?
My Second question is:
If I change the Blue Link (per diagram) to Half Duplex will this reduce amount of Collisions / Packet drops ?
My Third question is:
Why half duplex was ever developed anyways ?
My Forth question is:
What can be done to improve the network in case half duplex can never be changed to full ?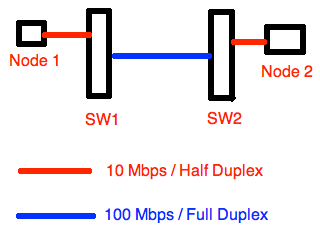 The problem is that Node 1 is NOT a computer. It's a network device that supports ONLY HALF DUPLEX 10 Mbps.
Node 1 needs to communicate with Node 2
Switches report Collisions in Port statistics.
We want to achieve the state where there are NO collisions or reduce them.
If I were to change the Blue Link to HALF Duplex 10 Mbps as other links, Will that improve this ?
We want the network to be slow, we do not want any drops, or collisions.
Can this be achieved and why ?
I really appreciate your help.
Kindest Regards,
Mariusz