Beginner
Mark as New

Bookmark

Subscribe

Mute

Email to a Friend
RSPAN with SG350 : how to make it working ?
Hi,
I have already read lot of topics about this issue, but none helped me to solve it.
I have a network composed by several SG350 and would like to make RSPAN working.
I started small with only two switches. Following the user manuals, webinnars, ... I think I configured well the two switches.
On the first switch, I set an RSPAN VLan, a monitor session with a physical port as source and the destination is the RSPAN Vlan with an unused physical port as reflector port.
On the second switch, I set the same RSPAN Vlan, the source is now the RSPAN Vlan and the destination a physical port.
The two switches are interconnected together through a trunk port (and of course the RSPAN VLan is tagged on this trunk port).
The wireshark shows no traffic at all, from the destination port of the second switch. I also created a classic span session on the first switch to check if trafic is at least sent on the trunk port but even not...
I guess I have an issue with the reflector port and how to inject the trafic into the RSPAN VLan.
Does someone have a clue how to make it working ?
I also found this drawing in the User Manual, but I do not understand how to achieve it, the reflector port cannot be the trunk port, the text below does not seems aligned.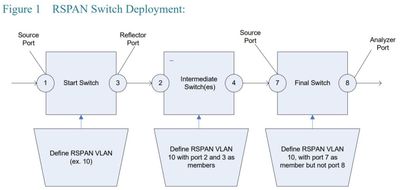 Thanks in advance for your help !