Beginner
Mark as New

Bookmark

Subscribe

Mute

Email to a Friend
The Classic Technotes "Multicast Does Not Work in the Same VLAN" is absolutely Stale
Dear Networkers,
We all may have heard that with IGMP snooping feature enabled and without some special configuration(Querier, mroute...), one switch connecting to the source won't forward packets to another switch with receiver there in the same VLAN, I just copy the diagram and Cisco link here for your reference--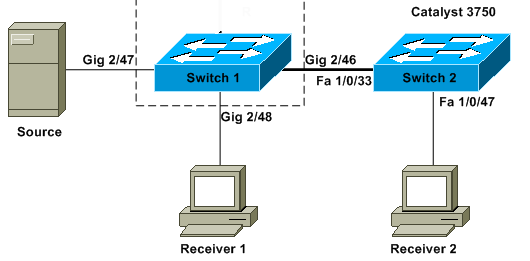 https://www.cisco.com/c/en/us/support/docs/switches/catalyst-6500-series-switches/68131-cat-multicast-prob.html
But actually during my test today at customer site, with IGMP snooping enable and w/o any special configuration, SW1 forwards the multicast stream packets to SW2 as long as there is a receiver on SW2.
So I am wondering, or Cisco changed the switch "logic" inside, or such theory only exists on some platforms, here I am using the C2960-S Gigabit Ethernet switch with v12.2 IOS.
Welcome for your comments, thank you.
Hall of Fame Expert
Mark as New

Bookmark

Subscribe

Mute

Email to a Friend
Hmm, I wasn't aware of this specific issue, i.e. one switch not relaying another switch's IGMP queries without additional configuration.

Since the document is from 2006, there indeed might have been an enhancement to how Cisco, by default, deals with IGMP queries.