Highlighted
Beginner
Mark as New

Bookmark

Subscribe

Mute

Email to a Friend
Allow Changing of user passwords through PIX with IAS Radius and Cisco VPN Client
We have a windows 2003 DC running IAS. We are currently using this setup to authenticate VPN users connecting through a PIX firewall and Cisco VPN Client. This setup works fine. I would like the VPN client though to prompt users when their passwords expire and allow the users to change their passwords when they do. It seems this can be done somehow but I cannot get it to work. I am told you need to enable MS-CHAP v1 or 2 for the Dial-In profile authentication in IAS to make this fly and add the 'password-management' to the general attributes of the tunnel group. I have done both of these things but when I do I cannot even get the user to authenticate at all, much less allow them to change their passwords. I have read a lot of posts describing how to do this but no one seems to have any success. Can this be done? I have tried declaring the ppp attributes and including MS-CHAP-V2 authentication command as well as leaving it out. I also tried to also enable ms-chap-v1 as well as v2. Either way I get an IAS error of the following:
IAS_INVALID_AUTH_TYPE
Here is the relevant configuration on the PIX and within IAS: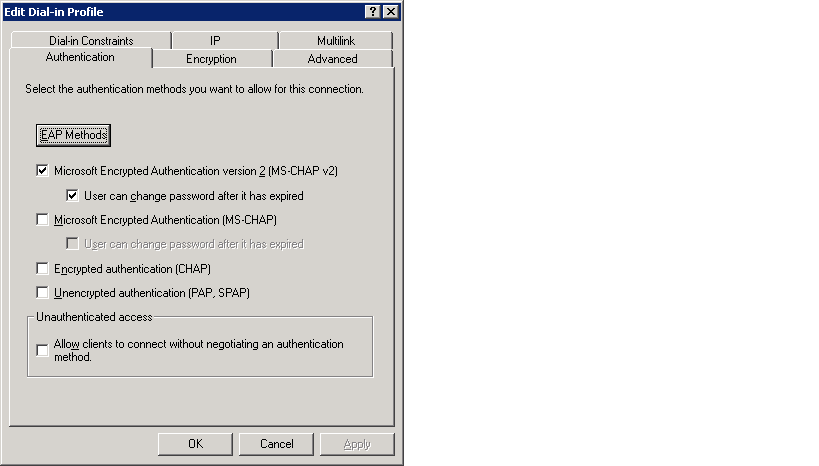 Cisco PIX Security Appliance Software Version 8.0(4)24
aaa-server radius protocol radius
aaa-server radius (inside) host dc1-int
key <key>
aaa-server radius (inside) host dc2-int
key <key>
group-policy company-admin internal
group-policy comapny-admin attributes
wins-server none
dhcp-network-scope none
vpn-access-hours none
vpn-simultaneous-logins 20
vpn-idle-timeout 30
vpn-session-timeout none
vpn-tunnel-protocol IPSec
ip-comp disable
re-xauth disable
group-lock none
pfs enable
split-tunnel-policy tunnelspecified
split-tunnel-network-list value company-admin-split-tunnel
tunnel-group company-admin type remote-access
tunnel-group company-admin general-attributes
address-pool company-admin
authentication-server-group radius LOCAL
default-group-policy company-admin
password-management
tunnel-group company-admin ipsec-attributes
pre-shared-key *
Like I mentioned, this works if I do not enable MS-CHAP-v2 on the server and remove the password-management on the PIX. The end result I am looking for is to allow users to change their passwords via the VPN client, but I cannot seem to even authenticate them at all. Any help would be great.
Thanks in advance