Highlighted
Beginner
Mark as New

Bookmark

Subscribe

Mute

Email to a Friend
Connecting from a remote computer to a remote office using VPN X 2
Hi All
I have the following problem:
we have two offices that are connected with VPN. Office 2 has a server users on office 1 use. Office 1 has remote users that connect using a VPN client.
Users in Office 1 working under NAT communicate with the server in office 2 without a problem.
The issue is that remote users of office 1 can not connect directly to the server on office 2. IE if a remote user wants to communicate with server 172.16.12.123
He can't.
I add a drwaing where router 1 is found in office 1 and router 2 is found in office 2 as well as the router (1721) configuration.
Any help would be appreciated.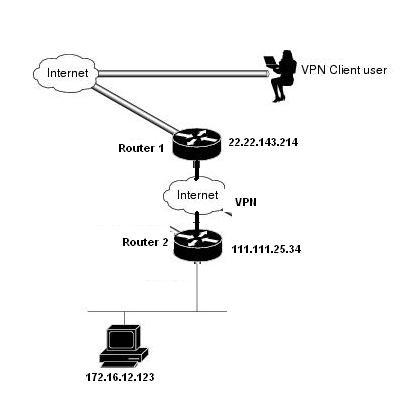 !
!
version 12.3
service timestamps debug datetime localtime
service timestamps log datetime localtime
service password-encryption
!
hostname Router
!
clock timezone est -5
clock summer-time zone recurring
aaa new-model
!
!
aaa authentication login userauthen group radius
aaa authorization network groupauthor local
aaa accounting network default start-stop group radius
aaa session-id common
ip subnet-zero
!
!
no ip domain lookup
!
ip audit notify log
ip audit po max-events 100
no ftp-server write-enable
!
!
!
!
crypto isakmp policy 3
encr 3des
hash md5
authentication pre-share
group 2
crypto isakmp key 1******R address 111.111.25.34 no-xauth
!
crypto isakmp client configuration group ******
key *****
dns 192.168.82.2
wins 192.168.82.2
domain *****.com
pool ippool
acl 108
!
!
crypto ipsec transform-set myset esp-3des esp-md5-hmac
!
crypto dynamic-map dynmap 10
set transform-set myset
!
!
crypto map clientmap client authentication list userauthen
crypto map clientmap isakmp authorization list groupauthor
crypto map clientmap client configuration address respond
crypto map clientmap 1 ipsec-isakmp
set peer 111.111.25.34
set transform-set myset
match address 110
crypto map clientmap 10 ipsec-isakmp dynamic dynmap
!
!
!
!
interface Loopback1
ip address 1.1.1.1 255.255.255.0
!
interface Ethernet0
ip address 22.22.143.212 255.255.255.248
ip access-group filterinE0 in
ip access-group filteroutE0 out
ip nat outside
full-duplex
no cdp enable
crypto map clientmap
!
interface FastEthernet0
description connected to EthernetLAN
ip address 192.168.82.5 255.255.255.0
ip nat inside
ip policy route-map nonat
speed auto
full-duplex
!
interface Serial0
no ip address
shutdown
!
router rip
version 2
network 192.168.82.0
no auto-summary
!
ip local pool ippool 172.16.8.1 172.16.8.250
ip nat pool Router-natpool-1 22.22.143.210 22.22.143.210 netmask 255.255.255.248
ip nat inside source list 150 pool Router-natpool-1 overload
ip nat inside source static 192.168.82.5 22.22.143.209
ip classless
ip route 0.0.0.0 0.0.0.0 22.22.143.214
no ip http server
no ip http secure-server
!
!
!
ip access-list extended filterinE0
permit udp any eq isakmp any eq isakmp
permit udp any any eq isakmp
permit esp any any
permit udp any any eq non500-isakmp
permit udp any any eq 1701
permit ip 172.16.12.0 0.0.0.255 any
permit ip 172.16.8.0 0.0.0.255 any
evaluate infilterE0
deny ip any any
ip access-list extended filteroutE0
permit ip host 22.22.143.209 any reflect infilterE0
permit ip host 22.22.143.210 any reflect infilterE0
permit ip any 172.16.8.0 0.0.0.255 reflect infilterE0
permit ip any 172.16.12.0 0.0.0.255
access-list 100 permit udp any eq rip any eq rip
access-list 100 permit tcp any any eq www
access-list 101 deny ip any any
access-list 103 permit ip 192.168.82.0 0.0.0.255 172.16.8.0 0.0.0.255
access-list 108 permit ip 192.168.82.0 0.0.0.255 172.16.8.0 0.0.0.255
access-list 110 permit ip 192.168.82.0 0.0.0.255 172.16.12.0 0.0.0.255
access-list 150 deny ip 192.168.82.0 0.0.0.255 172.16.12.0 0.0.0.255
access-list 150 permit ip 192.168.82.0 0.0.0.255 any
!
route-map nonat permit 11
match ip address 103
set ip next-hop 1.1.1.2
!
snmp-server community public RO
snmp-server enable traps tty
radius-server host 192.168.82.2 auth-port 1645 acct-port 1646 key 7 *****
radius-server authorization permit missing Service-Type
!
line con 0
exec-timeout 0 0
password 7 ****
line aux 0
line vty 0 4
password 7 ****
!
no scheduler allocate
ntp clock-period 17180216
ntp server 150.208.72.154
ntp server 198.123.30.132
!
end