Options
Mark as New

Mark as Read

Bookmark

Subscribe
Jeyakumar Sathurappan is a Software engineer in wireless Engineering team.
In this Video Jeyakumar will explain, "How to configure converged access mobility or new mobility architecture on Unified WLC (Cisco 5500 WLC) and NGWC (Cisco 5760 WLC and Cisco Catalyst 3850) devices using CLI and GUI modes".
New mobility architecture is completely different from old mobility architecture from the way it configured and it works. It follows the Hierarchical approach. Mobility controller, Mobility agent, Mobility Oracle concepts are involved in this architecture.
This Video will cover how to enable new mobility on Unified WLCs as well as NGWC controllers by creating mobility groups, mobility peers and switch peer groups.
Q. What is converged access mode?
A. The wireless way of access is becoming the primary mode of access. Customers want higher scale, performance, and higher resiliency for Wi-Fi networks, yet want those networks to continue to support the wired connectivity and keep the management of wired and wireless networks as simple as possible. To address all these primary requirements, Cisco has introduced a new mode of deployment called "converged access" mode. This new mode enables customers to achieve the benefits of one policy, one management, and one network.
Q. What are the benefits of converged access mode?
A. Converged access mode provides several benefits to customers. Some primary benefits include:
Maximum scale and performance: Hierarchical network design that distributes the wireless data plane at the access layer on Cisco® Catalyst® switches combined with a Unified Access Data Plane (UADP) application-specific integrated circuit (ASIC) that provides maximum performance and scale.

Higher resiliency: Constrains network failure to smaller domains, thereby providing a more resilient wireless network.

Simpler management: Ability to apply consistent configuration policies such as quality of service (QoS) and access control lists (ACLs) at the same switch port, providing similar experience across wired and wireless clients.
Frequently used terms:
Mobility Agent: The Mobility Agent is an entity residing on the access switch that manages mobility events on the switch, and communicates with the Mobility Controller. Cisco Catalyst 3850, Cisco Catalyst 3650 supports Mobility agent mode.
Mobility Controller: A controller providing mobility management services for inter proximity group or inter switch peer group roaming events within a sub-domain. Cisco 5760 WLC, Cisco Catalyst 3850, Cisco Catalyst 3650 devices supports Mobility Controller mode. Also Unified WLCs such as Cisco 5500,2500,WiSM2 Controllers act as Mobility controller by default.
Mobility Oracle: The Mobility Oracle acts as the point of contact for mobility events that occur across mobility sub-domains. The Mobility Oracle also maintains a local database of each station in the network, their home and current sub-domain.
Brief introduction about Converged Access Mode for Cisco 5760 Wireless LAN Controller and Cisco Catalyst 3850:
Unified Access CT5760 Wireless Controller
The CT5760 Wireless LAN Controller (WLC) is the first Cisco IOS® software-based controller built with smart ASIC intended to be deployed as a centralized controller in the next generation unified wireless architecture. CT5760 controllers are specifically designed to function like the older unified model central wireless controllers. They also support the newer Mobility functionality with Next Generation Wireless Controllers 3850 switches in the wireless architecture.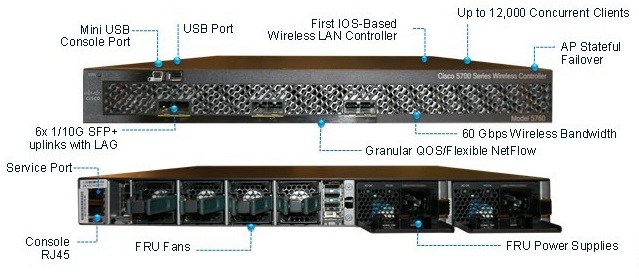 CT5760 controllers are deployed behind a core switch/router. The core switch/router is the only gateway into the network for the controller. The uplink ports connected to the core switch can be configured as EtherChannel trunk to ensure port redundancy.
This new controller is an extensible and high performance wireless controller, which can scale up to 1000 access points (AP) and 12,000 clients. The controller has 6 10 Gbps data ports.
As a component of the Cisco Unified Wireless Network, the 5760 series works in conjunction with Cisco Aironet Access Points, the Cisco Prime Infrastructure, and the Cisco Mobility Services Engine to support business-critical wireless data, voice, and video applications.
Unified Access Catalyst 3850 Switches
The Unified Access Catalyst 3850 switch is a flexible ASIC-based hardware that can support multiple protocols and has many advantages over the current hardware platform. The Catalyst
3850 switch has an integrated hardware-based wireless support with Control and Provisioning of Wireless Access Points (CAPWAP) and fragmentation. It also has 40 GB of uplink bandwidth when all ports function at line rate.
The Catalyst 3850 switch provides an open service platform. It has a 4-core CPU to leverage the operating system (OS) and to host various services. The Catalyst 3850 hardware is the next- generation switching hardware.
The UA Catalyst 3850 switch has unified wired and wireless architecture. The wireless operating system is Cisco IOS® software-based. UA Catalyst 3850 switch provides uniform wired and wireless policies. It can house 50 access points (802.11n) and support 2000 clients per stack.
Configuration Examples
Converged Access mobility on Unified WLC and NGWC using GUI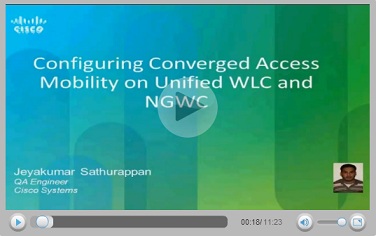 https://supportforums.cisco.com/node/12159801
Converged Access mobility on Unified WLC and NGWC using CLI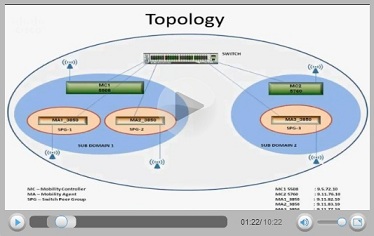 https://supportforums.cisco.com/node/12159796
Additional Information
Configure 802.11r WLAN using CLI and GUI on Converged Access (5760 WLC and Catalyst 3850) Video series by Karthickeyan Prabanandhan:
Video - 11r-dot1x configuration and Roam
Related Information
Do Rate the Videos!
You must be a registered user to add a comment. If you've already registered, sign in. Otherwise, register and sign in.