Cisco Employee
Mark as New

Mark as Read

Bookmark

Subscribe

Email to a Friend
Everyone likes to go fast. The speed of your business, your network and your Wi-Fi is critical to how quickly you can move forward.
In this latest generation of wireless networking, Wi-Fi 6, speed is a focus, but it's not about just individual device speed, but all client speeds, ensuring the total network delivers on the capacity promised.
To summarize the differences between Wi-Fi 6 and previous generations, you can think simply of the comparison between a "single lane" road and "multi-lane" highway. Previous wireless LAN technologies could only send one transmission to one client at a time, a serial operation. Although Wi-Fi 5 (specifically, 802.11ac Wave 2) could potentially transmit to 4 clients at once using MU-MIMO, this feature was not widely implemented on the client-side. Wi-Fi 6 changes the game here by implementing two technologies (MU-MIMO and OFDMA) that can achieve parallel transmissions to multiple clients concurrently.
As depicted in the image below, the difference between OFDM and OFDMA is that multiple users can communicated to concurrently, leading to less overhead and more efficient use of resources. Instead of using the entire road to transmit to one user at a time (OFDM), the use of OFDMA allows for the road to be sub-divided into RU (resource units) to transmit to multiple clients at once.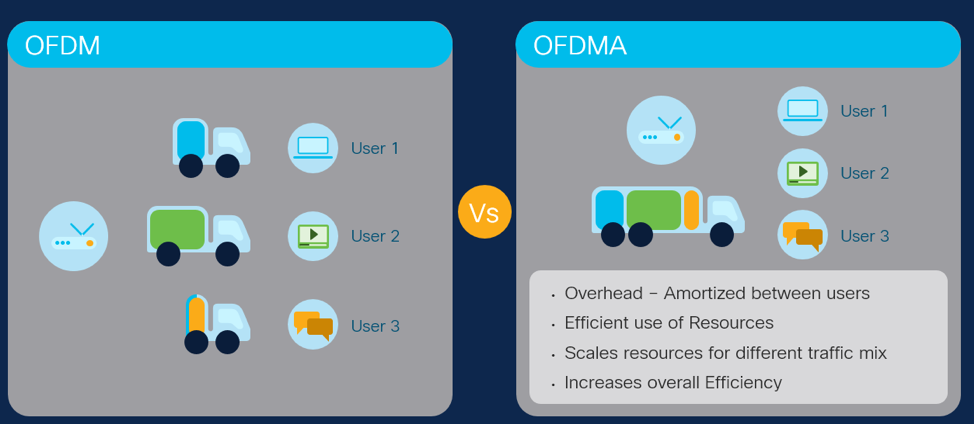 What does Wi-Fi 6 mean to your end user experience? It means that low-latency applications (Voice/Video, AR/VR, VDI and real-time transactions) can essentially stay in their own lane and not be impacted by large bulky data transfers. It means that more clients can have a positive experience on the same Access Point without significant degradation as clients are added. Wi-Fi 6 also has provisions for IOT use cases, bringing a reliable experience to 2.4GHz by allowing low-data applications to use less spectrum and avoid interference that can wreak havoc in shared spectrum.
This groundbreaking standard requires a hardware refresh to unlock these capabilities, which may leave you asking, when can I take advantage of Wi-Fi 6 for my business?
The answer is today.
Although Wi-Fi 6 consumer devices have been available since 2019, the year of 2020 marks when this technology becomes the "default" choice for both enterprises and consumers alike.
On the infrastructure side, Cisco now has a full line of certified Wi-Fi 6 Access Points including the 9115AX, 9120AX and the top of the line, 9130AX. Cisco's Catalyst Access Points provide functionality above and beyond the standard, employing an RF ASIC to handle interference and featuring a tri-radio mode which provides flexibility in deployment scenarios. Cisco-Meraki also features fully certified Wi-Fi 6 products, with the MR36, MR46 and MR56 Access Points.
On the client side, chances are more and more of your users will be sporting a Wi-Fi 6 capable phone, tablet or laptop. Samsung's S10 and Galaxy Note 10+ support Wi-Fi 6. Owners of an Apple iPhone 11, 11 Pro and 11 Pro Max all support Wi-Fi 6, in addition to the recently refreshed iPad Pro. On the notebook side, laptops featuring Intel Wi-Fi 6 allow users to take full advantage of a Wi-Fi 6 infrastructure.
In a world where connectivity is paramount, embracing the latest technology enables more speed and new applications that could never be wireless before. The rise of AR/VR, VDI, other real-time applications and proliferation of IoT applications demand an infrastructure that has multiple lanes to keep each traffic type operating at peak performance. Wi-Fi 6 is this technology and represents a paramount upgrade over existing Wi-Fi technologies. To gain these advantages for your business, the time to upgrade is now, to be prepared for the next wave of Wi-Fi enabled devices that will be entering your company.
2 Comments
You must be a registered user to add a comment. If you've already registered, sign in. Otherwise, register and sign in.