Beginner
Mark as New

Bookmark

Subscribe

Mute

Email to a Friend
Samsung Galaxy s10+ problem connecting to 802.1x SSID
Hi,
Recently I tried setting up a test SSID with 802.1x using local net user and PEAP, but had problems with a client on a Samsung Galaxy s10+ trying to connect to the SSID. They are able to connect to the PSK based SSID, just not the 802.1x based one, ultimately failing with a timeout message: 4-Way HandShake: No Handshake Failed due to TimeOut
A copy of some of the debugs follows: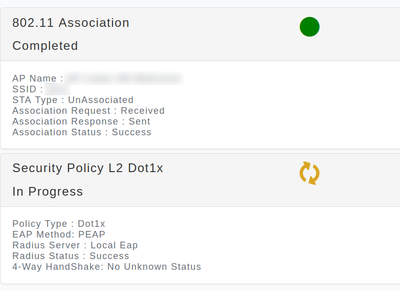 A redacted debug log is attached attached.
Any thoughts as to why they aren't connecting? I would like to get a wireshark capture, but it's extremely difficult to find time to sit down one on one with this user remotely to spend on troubleshooting during their busy work hours, so advice is welcome!

VIP Mentor
Mark as New

Bookmark

Subscribe

Mute

Email to a Friend
Hi
You're doing this config in a 9800 wlc?
Did you import your own certificate or using the default one?
If the default one, have you exported it and imported it in your trusted certificate store on your phone?
You're saying galaxy s10+ isn't working. Does this mean you get it working with another phone?

Thanks
Francesco
PS: Please don't forget to rate and select as validated answer if this answered your question