Beginner
Mark as New

Bookmark

Subscribe

Mute

Email to a Friend
Hi,
1) is there any tool available to generate xml scripts for ACI configuration (tenant, BD, EPG, etc.) ?
intention is to post the xml scripts at appropriate location for ACI configuration.
2) when i right click and "save as" the xml script that is downloaded does not maintain the indentation and formatting. Is there any way to get those scripts in right indentation and format ?
I am still learning the MIT and objects and classes hierarchy.
1 ACCEPTED SOLUTION
Enthusiast
Mark as New

Bookmark

Subscribe

Mute

Email to a Friend
Hi @nileshgore25,
You will find alot of examples out there and there are many ways to automate ACI.
@RedNectar Chris already described one, and quite a powerful one at that.
I'm not a fan of the CobraSDK so I'll share some other ways to do this so you get a full picture.
I work on ACI via python scripts using the requests module and via Ansible. If I'm doing something highly customized I'll use python because I have all of that build already. Ansible has lots of modules ready to go including a rest module and so for one off things I'll go that route. A common workflow for me is to build out the Data Center via Python and then "tune" with Ansible and mostly the REST module.
I also spend time using POSTMAN to validate the payloads I'm pushing to ACI and so I have some examples for you to look at with Postman. The Postman collection is here. Its pretty basic and does not have all the objects and relationships you need for a functioning network but its just enough to illustrate the examples.
Note: you can disregard the MACOS folder. Thats just an indication that the work was done on a Mac.
When you are updating specific "children" in ACI you will need to pay attention to the MIT and the relationships.
Here is an example of payload to add an SVI. Notice that the first object in line 2 is l3extLIfP which defines the Logical Node Profile. Under that starting at line 11 (but note the "children" in line 9) you have the l3extRsPathL3OutAtt which represents your SVI.
The first time you create all of this you can use "status": "created".
If you want to delete the objects you can use "status": "deleted"
However if you are going in to modify items then you will need to pay close attention to each status as you work your way through the relationships. Typically the parent object needs to be "created, modified" or "modified" if you are sure it already exists and children objects can then be noted as "deleted".
The payload below creates the DCL_IntProf Interface Profile object and then creates the child SVI object. In this case if you wanted to delete the SVI but keep your Interface Profile object (a likely scenario), line 7 would stay as is and line 21 would change to "deleted".
Using one of your use cases, the payload below (which I used to add a host route to the Google DNS server 8.8.8.8/32 with "status": "created") has been updated to delete that 8.8.8.8/32 route. notice that the Parent object ipRouteP is set to "status": "deleted" and after that it does not matter what the child object says. However its good practice to keep it consistent and as you will see in some of the other requests in the Postman collection I do set a STATUS variable to give you and example of putting the "state" in a variable within your playbooks. Makes it easy to back out the configuration as well as apply it.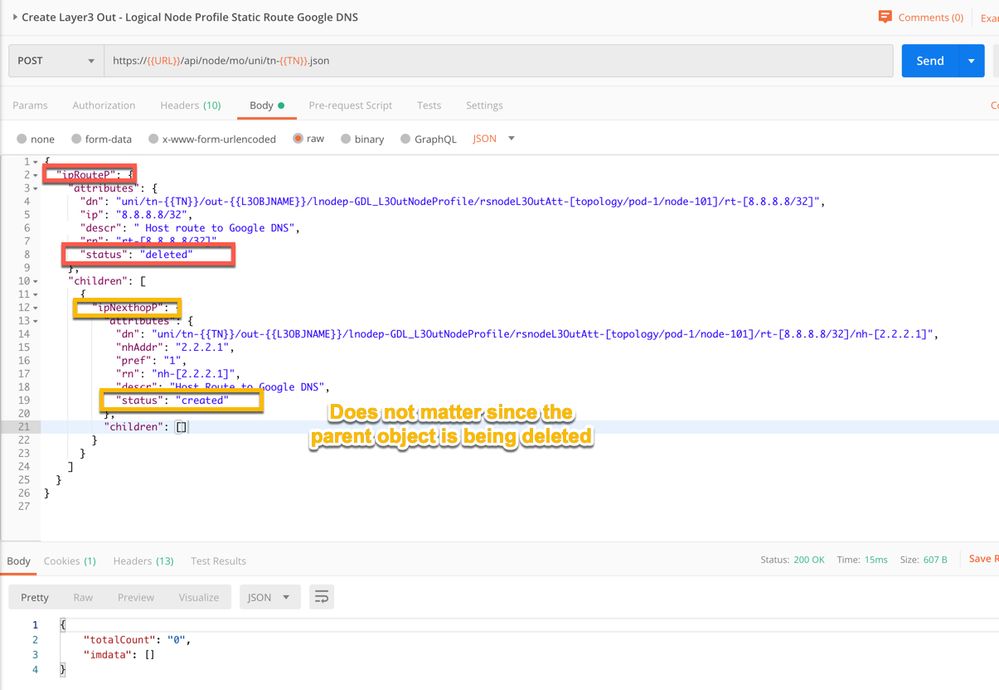 Again, the Postman collection is here and it comes with an environment set up for the DevNet APIC Sandbox.
The final option I'll mention is the ACI Tookit. Very good for basic stuff and handles alot of stuff for you (authentication, etc.). Early days it did not have all the actions I needed and so I went the "do it yourself" route.
Lastly, make liberal use of the ACI Inspector.
Thats where I got all of the payload data you see in the Postman collection.
I've got some Ansible ACI sample playbooks on GitHub from a presentation I did at Interop last year that might help.
Hope this helps!