Options
Mark as New

Mark as Read

Bookmark

Subscribe
We are excited to announce that we are starting the new chapter of the Spotlight Award!  
In an effort to simplify various Cisco programs for our Customers and Partners, Cisco communities also reviewed, aligned, and unified the Spotlight Award for the new (fiscal) year—new look, new features.
These changes aim to make your experience more intuitive and easier to understand.
Here's what we just updated: 
New, new, new!
We'd like to introduce our new Spotlight Award badge.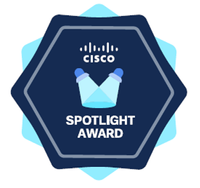 This badge is hexagonal, representing stars. It highlights the contribution to the Cisco community by using Cisco Blue. The text is placed in the badge so that the badge itself indicates the winner of the Spotlight Award winner. Also, to preserve the intuitive feel of the awards, the Spotlight image is placed in the center. We hope you like it!

We have also renewed the nomination form, reflecting that we have seven language communities. This new form has seven language options. Choose your preferred language from the drop-down list in the upper right corner of the form. Nominate your peers today!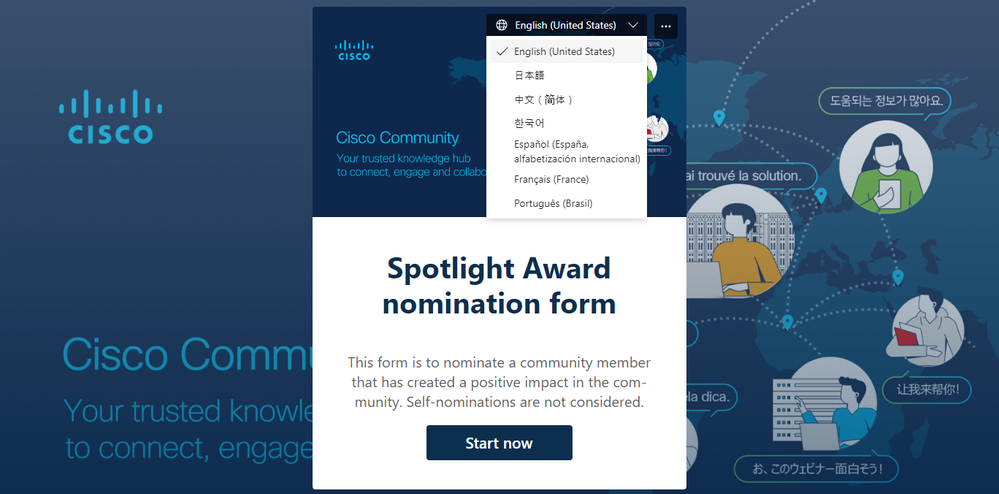 Quarterly award - The Cisco Community Spotlight Award is now fully aligned with the Cisco Learning Network (CLN) Spotlight Award! 
The announcement of winners will be made quarterly instead of monthly, with updated award categories.
Donation option  - Winners who have received the Spotlight Award two or more times can opt in for the donation option instead of the trophy.
With the donation option, the cost of shipping the trophy will be added to the Community Helping Community campaign that the Cisco Community runs annually at the end of the year. The donor names will be recorded and recognized as special contributors to the campaign.
Check the Spotlight FAQ for more details.
We want to thank and acknowledge members for the amazing feedback we have received to help us evolve and enhance our recognition program—to celebrate our members and protect our planet.
This is just the beginning of the new recognition and gamification journey. We would also like to recognize your superb contributions in helping others in the Cisco Community, and we will keep sharing our progress with you. Stay tuned!

You must be a registered user to add a comment. If you've already registered, sign in. Otherwise, register and sign in.