Options
Mark as New

Mark as Read

Bookmark

Subscribe
Have you ever wondered what it would feel like to win a medal? Well, here's your chance!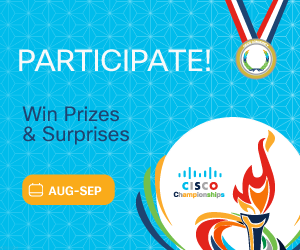 This year the Cisco Community has a special surprise for you … a "Championship Contest!" From Monday, August 23 to Sunday, September 19; participate in the community by creating content, answering questions or commenting for a chance to win a "Special Edition" Cisco medal and other great prizes! The community will award 3 champions and runners-up among all competitors.
In this special contest, the podium and prizes are granted according to the competitor's skills and efforts. Competitors can claim a gold, silver, or bronze medal according to the category they wish to participate. Each medal recognizes a different skill; thus, everyone has a chance to win.
Please see the table below for more details:
MEDAL

CATEGORY

& PRIZE

DESCRIPTION

GOLD

"Content Medal"

Gold Medal

+

HD1080px Webcam

For those who look to share their knowledge by publishing content in the community, it can be a blog, document, or video.

Competitors in this category must publish one piece of content in the community.

The content should be related to any Cisco technology or to any technology trend topic and published under the right community category or sub-category.

NOTE: Competitors who create more than one piece of content can receive extra points. Cisco experts will determine the value of their content; technical content is more valuable.

SILVER

"Advisor Medal"

Silver Medal

+

Wireless Phone Charger

For those who share their time and knowledge to help others solve their issues or clarify their questions.

Competitors in this category must answer at least five questions to participate for the "Advisor" medal.

The more answers (replies) a competitor provides, the more chances they have to win.

NOTE: If the competitor's answer is marked as an "Accepted Solution" or obtains a "Helpful Vote" he/she will receive bonus points to win.

BRONZE

"Social Medal"

Bronze Medal

+

Cisco Press Book

For those who help to build this community by interacting with other members or recognizing valuable content and contributions.

Competitors in this category must provide at least five comments to a Cisco Community content piece which can be placed on a blog, document, video or event page.

NOTE: Cisco Community managers and experts will determine the value of the comments. Offensive comments are not allowed and will disqualify participants. Competitors who give "Helpful Votes" will receive extra bonus points.
For those participating for the "Gold Content Medal," please send the link of your published content to:
Remember that if you publish content, it should be allocated in the right category or sub-category in the community such as Networking, Security, Webex, etc. Only content with valid technical information is considered (content translations to English language are welcome, just mention or quote this fact in the publication). Once you have the link of your technical publication, please send it to csc-events@external.cisco.com
This contest is open to all Cisco Community members. All participations and published content are reviewed by Cisco experts. All publications and content must be in English language and published according to the community rules and norms. For more details, please visit our community FAQ page.
Competitor's participation is valid only from Monday, August 23 to Sunday, September 19, 2021. The Cisco Community Championship results and its champions will be announced two weeks after the contest ends. Winners will be notified via email.
Participate today! Go for the gold and claim your place on the podium!

Please don't hesitate to reach out and let us know if you have any questions and/or comments.
On your mark … get set … go!
Cisco Community Team
2 Comments
You must be a registered user to add a comment. If you've already registered, sign in. Otherwise, register and sign in.