Options
Mark as New

Mark as Read

Bookmark

Subscribe
We launched a #CommunityPoll on social in September, asking "Are you keen to know more about what you can do to help address climate change?"
And the response…
* Count me in! = 72%
* Maybe = 11%
* No thanks = 17%
* Other = 0%
[Source: LinkedIn | X/Twitter]
With that, we want to create a space within the community knowledge hub to keep you posted on the latest Cisco's key sustainability resources!
'The Plan for Possible'
Cisco Chief Sustainability Officer, Mary de Wysocki introduced Cisco's next generation environmental sustainability strategy for not just a sustainable future, but a regenerative one (with examples of where we've already made an impact):
>> Read blog: The Plan for Possible: Connecting a regenerative future
Sustainability 101 blog series
Do you feel a bit lost when people refer to certain environmental sustainability topics and aren't sure where to start when it comes to learning more?

Sustainability 101 is a Cisco blog series that clarifies different environmental terms that may come up at work, during discussions with friends, and even at your annual holiday gathering.
>> Go to Cisco Blogs | Sustainability 101
Cisco ESG reporting hub
We are applying circular economy principles and improving the energy efficiency of our products to reduce our environmental footprint.
>> Learn more: Product sustainability
How we address GHG emissions, waste, and water within our supply chain.
>> Learn more: Supply chain environmental stewardship
As part of Cisco's overall commitment to sustainability, we in Cisco IT and Workplace Resources (WPR) have been working with our procurement, logistics, and other teams to make our global data centers more sustainable.
>> Learn more: Cisco IT Data Center Sustainability
The environmental footprint at our owned facilities, buildings, and labs.
>> Learn more: Our operations
Cisco sustainability programs and services
Cisco Refresh is one of Cisco's earliest sustainability initiatives, is now in its third decade of existence, and continues to make a positive impact on the planet by providing a second life for Cisco products.
>> Read blog: Cisco Refresh reinforces sustainability efforts
>> Learn more: Get the value of Cisco products at significant savings with fully Certified Remanufactured equipment
Cisco Takeback and Reuse Program lets Cisco equipment owners return hardware that has reached end-of-use, at no cost. This includes equipment branded by companies acquired by Cisco. Cisco reuses or recycles nearly 100% of products that are returned to us.
>> Learn more: Environmentally sound. Zero cost
Cisco Capital Green Pay, a circular IT payment solution to support customer sustainability goals
>> Watch video: Introducing Cisco Green Pay – Making it easier for customers to support the circular economy
>> Learn more: Finance your Cisco solution
Cisco CX Sustainability Services
Driving a sustainability strategy comes with incredible complexity and a spectrum of expectations. With the stakes being as high as it gets – the preservation of our planet – this is one we need to get right. Be more sustainable with CX.
>> Read blog: Driving a Successful Sustainability Agenda – A Deep Dive into a Holistic Approach
Cisco Sustainability Estimator provides Cisco partners insight into the estimated energy savings, emissions reduction, cost reduction and environmental impact that a customer may realize by modernizing its hardware. Partnering for Purpose.
>> These insights are only available to Environmental Sustainability specialized partners. 
>> The tool is also supported by a new Sustainability Partner Journey with resources and collateral to help partners build their sustainability practices.
Community Impacts
The Cisco Foundation was established in 1997 by a gift from Cisco. Cisco and the Cisco Foundation partner with nonprofits, non-governmental organizations (NGOs), and community-based organizations to carry out many of our Corporate Social Responsibility programs. In 2021, the Cisco Foundation committed US$100 million over 10 years to fund nonprofit grants and impact investing in climate solutions.
>> Learn more: Funding climate solutions
>> Go to Cisco Blogs | Climate Impact and Regeneration portfolio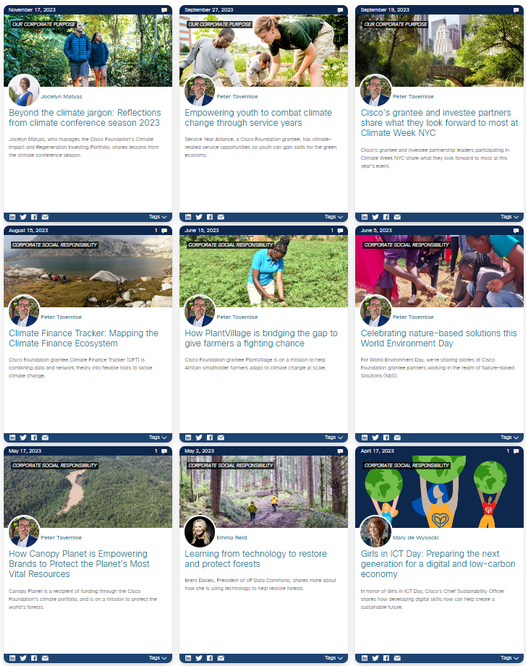 Encouraging Cisco employees to contribute to their local and global communities is one way we bring our purpose to life.
Engaging employees on sustainability: Cisco encourages employees to contribute to environmental sustainability. We have numerous programs and platforms through which people can access resources, get inspiration and share ideas. Employees continue to participate in 24 Green Team Networks (Global Inclusive Communities focused on driving sustainability impacts) and join in our annual Earth Day celebration, Earth Aware, that culminates in SustainX each year.
>> Read blog: How Cisco employees are involved with community impact
Cisco's Green Team Network (CGTN) has been driving sustainability as part of Cisco's Inclusive Communities (Employee Resource Groups) for the last 10 years. The Network is working towards this goal by raising awareness of today's most pressing sustainability challenges. They connect employees with the tools and resources to drive actions through service projects and campaigns. Above all, CGTN encourages employees to have fun and connect while making Cisco a more sustainable company. Find some of the volunteer/giveback activities and stories here:
>> Read blog: Why sustainability is important to members of Cisco's Green Team
>> Read blog: Together we can make an impact: How a beach clean-up united a community
>> Read blog: Cisco Green Team Network: Protecting our planet starts with us
==================================================
More relevant sustainability information will be shared here to help you stay up to date, be sure to Bookmark and/or Subscribe this post if you find it useful!
Give us a

vote if you want to see more content like this.
3 Comments
You must be a registered user to add a comment. If you've already registered, sign in. Otherwise, register and sign in.